Toy Name: ZippyPaws Zingy 3-Squeaker Plush Dog Toy Raccoon
Product Description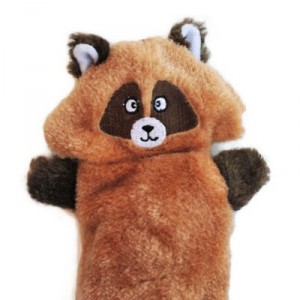 Does your dog like to play fetch and tug-a-war? If you answered yes, then you found a toy that just may be a hit for your pet. The material used for making this toy is soft and plush which is easy on his mouth when picking it up and returning it back to you. It will not hurt his teeth and gums.
Besides all this, your pet is bonding with you and getting his daily needed exercise that helps eliminate some of his excess energy he has stored up.
As you know, dogs need exercise and this toy is just one way that they can receive it and have fun all at the same time.
The Zingy is an ideal toy for pet dogs who enjoy squeakers. This model toy includes 3 loud squeakers for unlimited enjoyment (1 regular squeaker in head, 1 Blaster squeaker in body and 1 regular squeaker in tail). Toy includes no stuffing. Which makes it great for your dog to play with indoors and not getting stuffing all over the place.
This toy is not recommended for aggressive chewer dogs.
Product Features
Below are some of the features of this product:
Includes three (3) assorted squeakers
Stuffing-free
Dimensions: 15 x 4 inches
Great toy for squeaker loving dogs
Price: $7.49
Note: The price for this product is subject to change without notice.
Brand: ZippyPaws
Toy: Plush Raccoon Squeak Toy
Color: Brown
Product Rating: 4.2
Category: Plush Toys, Interactive Toys
For Dog Size: All Size Dogs
Reviews: Read the Customer Reviews!
Frequently Asked Questions
There are no frequently asked questions for this product.
To shop for product, click on the image below. You will be taken to the Amazon product ordering page.
As an Amazon associate, I earn from qualified purchases.
ZippyPaws Zingy 3-Squeaker Plush Dog Toy
Go back to Dog.Dog Luxury Beds home page.