Protect Dog's Paws In Cold and Hot Weather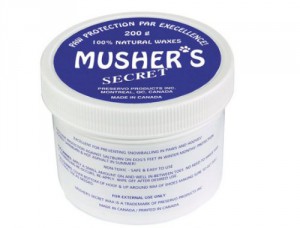 Are you a dog owner that lives in an area where you get lots of snow and you like to take your dog out for a walk? Does your community put salt on the street or sidewalk for cars and pedestrians and your dog walks on them in these areas? Do you put salt on the sidewalk in front of your house? Does it get hot in your area in summer? If you answered yes to any of these questions, you might want to consider Musher's Secret Paw Protector wax as a possible solution to these weather situations.
As most dog owners know, your dog's paw pads are important to your pet and need to be protected from the elements. Keeping them from free from salt, ice and sand in winter and the heat in the summer can be very challenging. Otherwise, they will get damaged or cracked during these times when walking your dog.
By putting some type of protector wax on the pads will protect him/her from paw damage due to ice, sand, and salt should be a big help. This particular product Musher's Secret also puts moisture into the pad because it contains vitamin E which helps the paws from dryness and has healing properties. It also protects burning from salt, sand, cold, and heat for short distances of walks up to 15 minutes.
It's highly recommended that dog owners do something to protect their pet's paw pads all throughout the different seasons.
The following topics that will be covered in this article are:
Product Description
Below is a brief description of the paw wax product:
Protects paws from sand
Protects paws from hot pavement
Protects paws from ice and salt
Protects dog paws from harsh surfaces
It's made with 100% all-natural wax-based cream
Easy-to-apply
Perfect for mushing, walking, hunting, or any outdoor activity
Contains vitamin E to moisturize and help heal wounds and to keep paws healthy
Apply to pads and between toes, dries in seconds to form a semi-permeable shield
Non-toxic
Non-allergenic
Non-staining formula
Helps prevent burning, drying, and cracking
Acts as an invisible boot to prevent paw problems
The product is like a cream wax that you apply to your pet's paws and legs. It provides a protective coating so that salt, ice and sand will not stick to him or her while walking in bad weather conditions.
Back to Musher's Secret Paw Protector topics.
Product Sizes
Below is a description of the sizes available for this product.
60 grams or 2.1 oz. container
7 ounce container
16 ounce container
Back to Musher's Secret Paw Protector topics.
Product Pricing
The pricing for this product will vary from time to time do to the discounts being offered at the time the order is placed. The prices are provided so consumers can compare them with other similar products before buying. All product prices are subject to change without notice.
60-Gram Size (2.1 oz.)
List Price: $14.99
Discount: $2.74
Current Price: $12.25
Per Ounce: $5.80
7-Ounce Size
List Price: $19.99
Discount: $1.04
Current Price: $18.95
Per Ounce: $2.70
16-Ounce Size
Price: $26.95
Per Ounce: $1.68
Back to Musher's Secret Paw Protector topics.
Video of Musher's Secret Paw Wax
Below is a wonderful video on the use and how to apply this product on your pet. Watch it now!

Back to Musher's Secret Paw Protector topics.
Amazon Product Rating
This product has been purchased by over 4,595+ customers who gave this item an average score of 4.4 out of 5 stars, which is excellent.
Back to Musher's Secret Paw Protector topics.
What Others Are Saying About This Product
We do not want anyone to take our word for it. You can read some of the reviews below. If you are interested, you can read all of the 4,596+ good and bad reviews, by Clicking Here!
The reviews are provided so consumers can read them prior to committing in buying the product.
By CS, December 27, 2014 – It Does Seem To The Job Pretty Well
We haven't had that much snow and ice since I got this but it does seem to do the job pretty well. It's no miracle but it creates a barrier between skin and the environment. So far no more limping dogs due to ice and salt. I have small dogs and use about a pea size glob per paw rubbing it in between toes and pads. I use the excess left on my hands to rub on the fur on the legs and especially the long feathered fur on my dachshunds legs and his belly. Seems to keep the hated snowballs at bay. I also use sometimes use leftover and rub it on my hands which seems to protect them from the harsh cold weather. It does leave waxy footprints on the floor right after application but easy to mop up and it doesn't make the floor slippery. Overall happy with my purchase and the 200g will probably last me for years and years.
By Kizzy22, December 27, 2014 – Exactly What We Were Looking For
This product is great! We have purchased smaller tubs in stores but we're looking for a larger supply due to having many dogs! The price is great and it is exactly what we have purchased in stores just in the larger 1lb tub! Very pleased and will purchase again when need more through these sellers!
By James S. Allen, December 26, 2014 – Best Stuff Ever
It is some of the best stuff I've ever used on my dogs feet and skin, the biggest thing is here in Baltimore md there winters dry out your skin and lips we are using it instead of chap stick it works wonders. Just love it
By MJH, December 18, 2014 – Really Great Stuff for MN Winters
This makes a tremendous difference to my dog (20 lb bichon/poodle) in Minnesota winters. Without Musher's he picks up his feet in pain when we cross an area with salt on the sidewalk, and he gets ice balls between his toes when he walks in even a little snow. With it, he doesn't have either of these problems (you need to get some Musher's between their toes to deal effectively with the ice balls). In the winter a dog's pads often feel rough and dry, and probably have some micro fissures. After putting on the Musher's, they feel smooth – much like putting on hand cream for people, but more lasting. My dog doesn't love to have his feet handled, so I usually put it on three times over the course of a couple of days, to allow me to get more thorough coverage than he would allow in one application. Then he'll be good to go for a week or more. You need to put it on right before you go out, to avoid waxy footprints in the house (they clean up easily on hardwood floors – I don't know how they'd do on carpets but I'd want to avoid that). We do have boots for him but given how dogs feel about boots we keep those in reserve for days with temps below about 5F. This is a product that is as good as it claims to be.
By Judy P "SLMS", December 17, 2014 – Puppy Gets Cold Feet Easily
I live in northern Minnesota and have a delightful puppy that gets cold feet easily. I used the Musher's secret and she walked without any problem on the slushy salty mixture we have on our streets. It looks like it will last a long time, and my pup appreciates the protection.
Back to Musher's Secret Paw Protector topics.
Questions Being Asked
There are 555 questions people asked about this product. You can read all of them by clicking on the following link: Answered Questions!
Why Should I Consider Buying This Product?
The following are some pretty good reasons why you should consider buying this product.
✓ You get lots of snow in the area where you live
✓ Salt and other chemicals are placed on the streets and sidewalks
✓ It gets cold where you live
✓ Your pet has difficulties when walking on snow, ice, salt and sand
✓ It gets hot in your area
✓ Your dog's paws get cracked or dry after walking in cold, hot, and snowy weather
✓ You are concerned about walking your dog during the winter months
✓ You want to help keep your dog's paws moist when walking in all types of weather
The above are just a few good reasons why you may want to consider buying this product. Your dog's paws need to be protected in all types of elements from different weather conditions.
Back to Musher's Secret Paw Protector topics.
Conclusion
As a responsible pet owner, you must protect your pet's paws from all types of weather conditions. Now, there exists a product the puts a thin layer of protection on your dog's paws which will be a win-win for all concerned regardless of the weather conditions outside.
Back to Musher's Secret Paw Protector topics.
Shop Musher's Secret Paw Protector
You can shop Musher's Secret Paw Protector by clicking on the image below. It will take you to the Amazon product ordering page where you can select from the 60-gram, 7-ounce, and 16-ounce size containers.
As an Amazon associate, I earn from qualified purchases.
Back to Musher's Secret Paw Protector topics.
Go back to the Dog Luxury Beds home page.
Musher's Secret Paw Protector
$12.25 (2.1 oz. size), $18.95 (7 oz. size), $26.95 (16 oz. size)
All Natural & Reusable
9.0/10
Protects Paws from Sand, Hot Pavement, Ice and Salt
9.5/10
Product Made With 100% All Natural Wax-Based Cream
9.5/10
Easy-to-Apply Formula
9.5/10
Pros
Easy-to-apply formula contains vitamin E to moisturize and help heal wounds and keep paws healthy.
all natural 100-percent wax-based cream.
Protects paws from sand, hot pavement, ice and salt.
Easy-to-apply formula.
Perfect for mushing, hunting, walking or before any outdoor activity.
Cons
Price.
Use a latex or nitrile rubber glove when applying it to protect your hands.
Put it on at the front door on your way out, otherwise the non-absorbed fraction leaves warm waxy paw-prints all over indoor surfaces.