Toy Name: Treatstik Small Meal Treat Dispensing Dog Toy
Product Description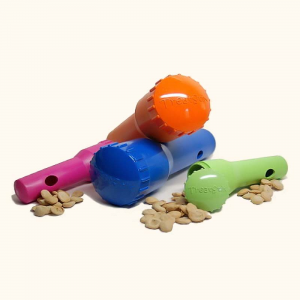 Do you need to control how fat your dog's eats his meals? Well, the Treatstik Small Meal Treat Dispensing Dog Toy may be just what the doctor ordered. The TreatStik is a treat dispensing toy that will offer your dog hours of mentally stimulating fun. As your dog nudges & rolls the toy it randomly dispenses hidden treats or kibble.
The small Treatstik holds about 1/2 cup of food or treats. The larger Treatskik holds about 1 1/2 cups of food or treats.
The toy comes in the following colors:
Your dog needs to eat his food, but you now can control how fast he eats it by using the Treatstik. The treat hole on both the small and larger toys is the same, 9/16 x 5/8″ on both sides. Just be sure the food fits into the holes so it will come out as your pet is engaged with the toy.
And for those pups that suffer from separation anxiety, just fill with treats or your dog's meal, and let them have fun.
Another nice dog puzzle toy from TreatStik.
Product Features
TreatStik (also called Treat Stick) can help to prevent your dog from misbehaving by keeping him happily occupied.
Large screw cap opening makes it easy to fill with your dog's daily food.Large TreatStik can fit up to 1.5 cups and the small size can fit 0.5 cups of your dogs dry food. Fill with a variety of treat sizes for an even longer play session.
The Treatstik is a meal and treat dispensing toy made of very tough Nylon that is non-toxic and non-splintering, and can withstand the strongest of chewers.
Treat hole is 9/16 x 5/8″ on both sizes.
Dishwasher safe.
Made in the USA!
May be best for use away from fine-furnishings for dogs that might like to fling it!
Dimensions: Small is 6″ long and is best for dogs 10 – 35 lbs. &  Large is 9″ long and is best for dogs over 30 lbs.
Weight: 2.4 ounces
Price: $20.35 (Blue), $21.42 (Green), $20.99 (Orange), $19.99 (Pink)
Note: The price for this product is subject to change without notice.
Brand: TreatStik
Toy: Treat Dispensing Toy
Color: Blue, Green, Orange, Pink
Product Rating: 3.5
Category: Puzzle Toys
For Dog Size: Small, Dogs under 35 lbs.
Reviews: Read the Customer Reviews!
Frequently Asked Questions
There are no frequently asked questions for this product.
Shop TreatStik Small Treat Dispensing Toy
To shop for product, click on the image below where you will be taken to the Amazon ordering page. There you can select the color of the toy. Below, the small blue toy is pictured.
As an Amazon associate, I earn from qualified purchases.
TreatStik Small Treat Dispensing Toy
Go back to Dog.Dog Luxury Beds home page.