Toy Name: Chuckit! Medium Ultra Ball
Product Description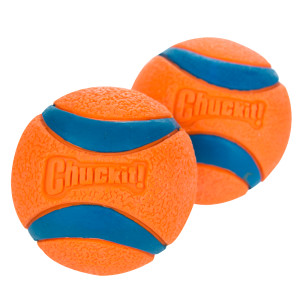 If your dog just loves to play the game of fetch then using this ball should just do the trick. It has two colors to make it easy to see and spot if lost. The ball floats on water to bring your pet some extra excitement. Providing your dog with exercise is good for him and his health and using this ball is a great way to accomplish it.
This is an interactive toy designed to bring owner and pet closer together through bonding.
Designed for the most demanding use, the Chuckit! Ultra Ball is no ordinary ball. Simply put, this is the best ball for the game of fetch. Developed to have high bounce, high buoyancy, high visibility, and high durability.
The balls come in the following sizes:
Small
Medium
Large
X-Large
XX-Large
Compatible with Chuckit! Dog Toy Launcher which is sold separately.
Product Features
Below are the features of this product:
Weight: 6.6 ounces
Package comes with two (2) balls
Made with quality material
Durable ball made for the game of fetching
Made with durable high-bounce rubber
It floats – It can be used in pools, ponds and beaches
Easy to clean
Works with medium Chuckit! Ball Launchers
Dimensions: 2.5 inches
Price: $7.95
Brand: Chuckit!
Toy: Ball (2 In Package)
Color: Orange & Blue
Product Rating: 4.8
Category: Ball Toys, Interactive Toys
For Dog Size: All Dogs
Reviews: Read the Customer Reviews!
Frequently Asked Questions
Below are some of the most common frequently asked questions about this product:
How does this ball compare to a tennis ball? Answer: It's the same size.
Will these balls wear down the dog's teeth like regular tennis balls? Answer: No. The balls are made with hallow rubber and no felt to be chewed off.
I have an aggressive chewer. Will he destroy these balls quickly? Answer: Yes. These are strong rubber balls and depending upon the size of your dog, you may want to buy a larger model.
Do these balls float. I like to take them to play fetch at the lake? Answer: Yes.
What length is the medium launcher? Answer: 18.5 inches.
How much heavier than normal tennis balls are these? My dog likes to catch on the fly sometimes. If he does that with these, will he break his teeth? Answer: About the same. The are not solid but filled with air and squishy. The dogs can chew without breaking them because the rubber is very thick. His teeth will be fine.
Can you buy these balls in bulk? Answer: Unfortunately, we do not sell these balls in bulk. From the manufacture.
Shop Chuckit Medium Ultra Ball
To shop for product, click on the image below. On the ordering page you have options to select other size balls and packages in Small, Medium, Large, X-Large, and XX-Large
As an Amazon associate, I earn from qualified purchases.
Go back to Dog.Dog Luxury Beds home page.
Chuckit! Medium Ultra Ball
Great For Playing Games of Fetch
9.5/10
Made from Natural High-Bounce Rubber
8.5/10
Designed For High Buoyancy and Bounce
9.0/10
Pros
Slightly Smaller Than A Standard Tennis Ball
Compatible with Chuckit! Launchers
Great for Playing Near Pools, Ponds & Other Bodies of Water
Designed To Have High Bounce, High Buoyancy, High Visibility
Made In USA
Cons
Price
Must Order Appropriate Ball For Your Dog