Lightweight Vacuum For Removing Pet Hair
Easily Removes Hair From Rugs, Couches, Padded Stairs and Upholstery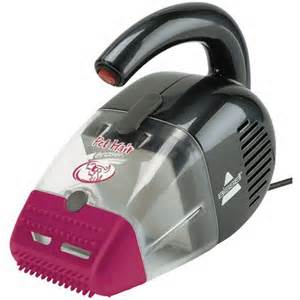 Do you have pets that like to shed their hair on your couches, padded stairs, rugs, upholstery in cars and house, and chairs? If you are like most pet owners, trying to remove their hair from areas where people sit can be difficult. Well, how about using the Bissell Pet Hair Eraser Handheld Vacuum Corded 33a1 to remove this unwanted hair. It also picks up dirt as well off any area that is not a hard surface.
The vacuum is lightweight and easy to hold and works very well on padded stairs, rugs in the home and automobiles, upholstery, sofas, and couches and has a long cord to reach areas where an outlet might not be. It weighs less than four pounds. So, it will not hurt your back. You will be quite pleased on how well this small handheld vacuum works in removing hair from your couches and other things.
The topics that will be included here are listed below:
Bissell Pet Hair Eraser Vacuum Demo Video
Take a look at the video below for a brief demo of the vacuum.
Back to Bissell Pet Hair Eraser Handheld Vacuum Corded 33a1 topics.
Product Description
The product description is provided so that consumers can compare them with other similar products.
Measurements: 10 by 5 by 8-inches
Warranty: 1-Year Limited
Cord Length: 16 Feet
Weight: Less than 4 pounds
Filtration: Multi-Level
Power Rating: 4 Amps
Cleaning System: Cyclonic
Filter: HEPA filter
Dirt container
Easy grip handle
Easy to Clean
Fingertip access on/off switch
Cord Wrap
Interchangeable hard nozzle
Flexible rubber contour nozzle
Designed to pick up hair
Lightweight and mobile
Comes with two specially designed nozzles
No Dirt Bags Required
Replacement Filter (See Image Below) does not come with the unit.
Product Note: Many reviewers mentioned in their reviews problems in using this vacuum on hard floors or surfaces. This vacuum is intended to work wonderfully on upholstery, rugs, couches, padded stairs, carpet and upholstered chairs and the carpet and seats in cars. However, you may encounter issues when trying to use it on hard floors.
Back to Bissell Pet Hair Eraser Handheld Vacuum Corded 33a1 topics.
Product Pricing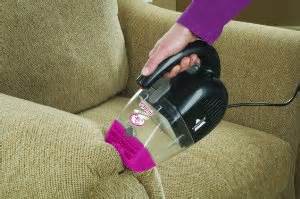 The pricing for this product will change from time to time due to the discounts being offered at the time of purchase. The pricing is provided for consumers so they can compare them with other similar products.
Prices are subject to change without notice.
The prices below are for the Bissell Pet Hair Handheld Vacuum and the replacement filters.
Bissell Vacuum
List Price: $34.99
Discount: $10.00
Current Price: $24.99
Replacement Filter
List Price: $10.99
Discount: $2.72
Current Price: $8.27
Back to Bissell Pet Hair Eraser Handheld Vacuum Corded 33a1 topics.


Amazon Product Rating
This product has been purchased by over 7,370 customers who have used this product and have rated this item with an average score of 4.4 out of 5 stars, which is excellent.
Back to Bissell Pet Hair Eraser Handheld Vacuum Corded 33a1 topics.
Consumer Reviews For The The Bissell Handheld Vacuum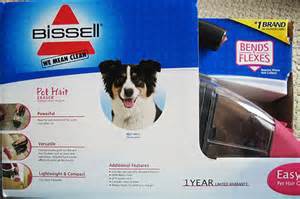 We do not want for you to take our word for it, but how about those that actually purchased and used this product. The five best of those reviews are below. We have provided a link so you can read all of the good and the bad 7,370+ reviews by Clicking Here!
By BMW, December 14, 2011 – Great Product If You Use It For What's It's Made For
I read a ton of the reviews on here before purchasing the Bissell Pet Hair Eraser. After receiving the product and using it for the first time, I have to agree with the positive reviews and I want to clarify a couple of the negative reviews. It seems that the biggest complaints against this vacuum are:
(1) the cord is too short, (2) it blows air out the side, (3) it just creates clumps of air without sucking them up.
Now, I will explain why if you use the Bissell Pet Hair Eraser for erasing pet hair from your upholstery, then you will not have any of those problems.
First, I can vacuum my entire couch (which is a sectional that takes up half of my living room) from one outlet. Based on the reviews, I was expecting the cord to be no more than a few feet long, but it is substantially longer than that and I had no problem reaching the entire couch.
Second, the vacuum does blow air out of the sides, which understandably is annoying if you're trying to pick up crumbs from under the kitchen table (as I read in one review). However, if you use the vacuum for erasing pet hair from your upholstery, you won't have that problem. I tried using it on my hard wood floors just to see if the complaints were valid, and they were. Obviously, however, I didn't buy a handheld vacuum to clean my hard wood floors. I bought it to get the pet hair out of my couch. And for that, it works like a charm.
Third, and related to the second complaint, the vacuum does not just create clumps of hair unless you're using it on a hard surface, which (in my opinion and so far in practice) is not what it was designed to do. And even if it does blow some loose dirt onto the floor, I always clean my couch before sweeping my floors so that wouldn't be a problem anyway.
To sum it all up, if you use the Pet Hair Eraser for erasing pet hair from your furniture such as couches, ottomans, and other fabrics, which is what I need it for, the product is amazing. I have a cat who loses fur every time you touch her and I have a dog with medium length fur that basically has needle point ends (literally, his hair has embedded itself into the bottom of our feet) so it is impossible to get it out of our fabric couch. I've tried everything, and nothing has satisfied my OCD need for cleanliness. Until the Bissell Pet Hair Eraser. If you buy it with the intention of using it for needs like mine, you won't be disappointed.
By Eric Van De Burg, November 20, 2008 – Little Sucker Could Suck A Golf Ball
This little sucker is unbelievable. The power is fantastic, the torque from the motor actually makes the vacuum jump in your hand when you flip the on switch. I have a couch in my basement that is the favorite place for my two cats to sleep. The couch had so much hair on it that the couch looked grey instead of purple. I spent 5 minutes with the pet hair eraser and the couch was literally hair free. The rubber attachment on the front works way better than motorized brushes that quickly clog with hair. The only thing I don't like about it is that it is a little loud, but I guess with power comes a little extra noise. I love this little vac, why pay all that money for a Dyson when this little guy works great! Edit: The one and only thing I don't like about the vac is the way the air coming out of the unit sometimes blows the hair into the air if you're not careful how you position the machine while you use it. Although considering how much air this little baby moves and the small size of the unit I'm not sure what could be done to avoid this. Having had this unit now for just over two years I still say its an amazing machine and I use it quite often. Its still going strong, no problems.
By Patti K, June 18, 2012 – Pet Hair Eraser – Where Have You Been All My Life
I had read the positive reviews about the Bissell Pet Hair Eraser, and was anxious for mine to be delivered. I am beyond thrilled with this product. I have always had dogs and cats, and have never had a product to clean up pet hair that was easier to use, and worked better. I have a Dyson Animal, and will never again pull that out to do my upholstery or stair cleaning — all I need is my Pet Hair Eraser! I first used it on the sectional, and it of course worked splendidly. Then I took it to the carpeted stairs, and I was almost giggling with excitement. This little machine is so easy to use, it has incredible suction, and the rubbery tip does a fantastic job of loosening up the pet hair and dirt for it to be suctioned into the collection cup. On the steps and along baseboards, it does a great job getting into the corners where your vacuum has a hard time reaching. Even if I didn't have pets, I would use this product for my steps, because it saves me from dragging out my big vacuum, setting it up to use the manual attachments, and dragging it up and down the steps. I have used tape rollers, I have used the Pledge pet hair sweeper, and I will never spend another dime on those products. This machine is simply fantastic — it works like a charm, is extremely reasonably priced, and I expect it will maintain the strong suction capability, because it does not operate on a rechargeable battery. I highly recommend the Bissell Pet Hair Eraser!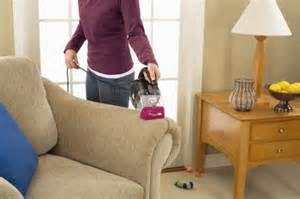 By A Greatful Heart, February 19, 2015 – I Am Really Impressed!
I have been fighting dog hair for many, many years. My dogs now have suede beds that I have tried to clean with mega rollers, brushes, and whatever I thought would work. Now I own this wonderful little vacuum, and I can't believe what a great job it did on the beds. Both heads, pink and black, work well. It is powerful, lightweight, has a long cord, and will be cleaning my furniture next. I wish I would have taken a "before" and "after" picture of the dogs' beds to prove how well it worked.
By Jonathan Adams, February 18, 2015 – Love It
After reading all the raving reviews I decided to give this vacuum a try. WOW! it did the job, it removed all the hard to/ left back pet hair from my suede couch. I even use to get the pet hair from my clothes. I highly recommend this product.
Questions About This Product
This product has 500 answered questions. You can read all of them by clicking on the following link: Answered Questions!
Back to Bissell Pet Hair Eraser Handheld Vacuum Corded 33a1 topics.
Product Links For Bissell Pet Hair Vacuum & Filter
Besides providing the product link for the vacuum, we have also included the replacement filter in case yours needs to be replaced or you like to have a spare filter on hand for emergencies.
As an Amazon associate, I earn from qualified purchases.
Back to Bissell Pet Hair Eraser Handheld Vacuum Corded 33a1 topics.
Back to Dog.Dog Luxury Beds home page.
Bissell Pet Hair Eraser Handheld Vacuum
Works On Upholstery, Auto, Stairs
8.5/10
Lightweight & Moble
9.5/10
Easy to Clean & Easy Grip Handle
9.0/10
Flexible Rubber Contour Nozzle
8.5/10
Pros
Designed To Pick Up Hair
Lightweight & Moble
Uses No Dirt Bags
Easy To Clean
Flexible Rubber Contour Nozzle
Cons
Price
1 Surface Height Setting
Does Not Come With Extra Replacement Filters. Sold Separately