Identify Pets Using A Glitter ID Tag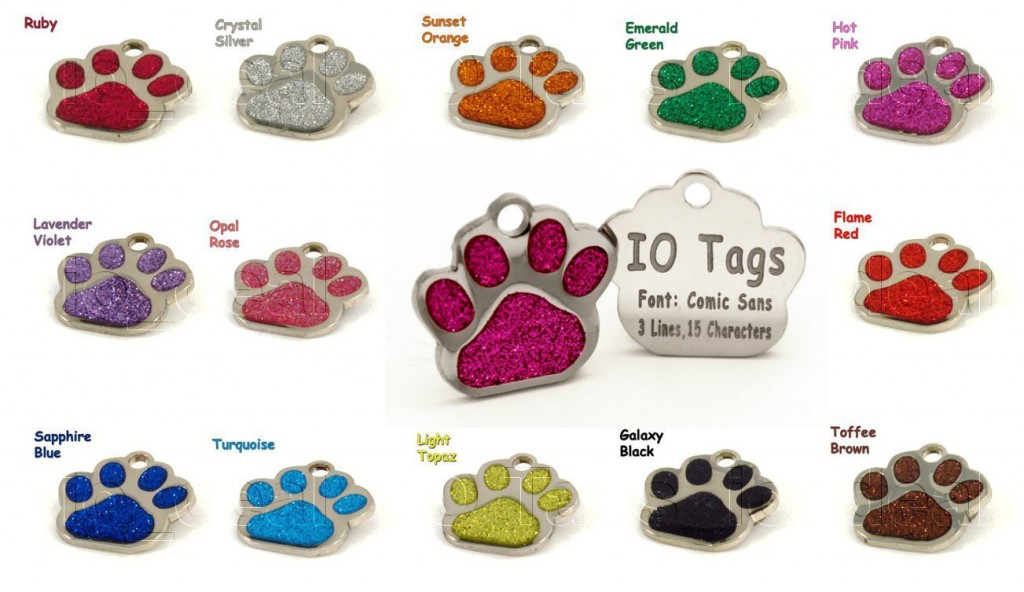 If you are a pet owner one of your biggest concerns is what to do if my pet should wander off and get lost and they are not wearing any identification? Without any form of identification on your pet, it's difficult to return pets to their original owners. Your worries are now over, the Laser Etched Glitter Paw Pet ID Tags will identify your pet by the information provided on the tag. Returning a lost pet to its owner will be much easier and quicker.
These ID tags are just gorgeous. They are stylish, strong and beautiful. They have a strong clear epoxy coating on the glitter face. Full polish nickel plating on metal. Each tag comes with a stainless steel split ring and they do not rust.
You can choose from thirteen different colors and nine font selections. The tag can have up to 3 lines of text with 15 characters on each line. You determine what is printed on the tag to make your pet and its owner easily identifiable.
Product Description
Manufacture: IO Tags
Price: $5.99
Note: The price of this product is subject to change without notice.
ASIN Number: B014VGNZRS
Dimensions: 1.1 x 0.1 x 1 inches
Weight: 1 ounce
Colors: Black, Blue, Green, Gold, Orange, Pink, Red, Rose, Silver, Turquoise, Violet, Ruby, and Brown
Font Choices: Bebas, Arial, Bradley, Caviar, Comic Scans, Georgia, Lucida, Segoe, and Varsity
Instructions For Ordering ID Tag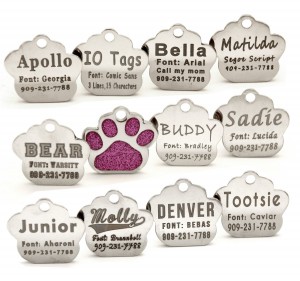 When you are ready to place your order, please follow the steps below:
Click or select the "Customize Now" button.
Enter the quantity you want to order by clicking or selecting the down arrow in the Quantity box and choosing the number of tags to order. Note: One is the system default.
Select the font you want from the Font Drop Down list by clicking on the Arrow Button in the font box. A list of fonts will appear. Select the one you want by clicking on it. It will populate the Font box.
Enter the color by typing the color name in the Color Box.
Enter text up to

15

characters in the Text Line 1 Box.
Enter text up to

15

characters in the Text Line 2 Box.
Enter text up to

15

characters in the T

ext Line 3 Bo

x.
After the information is typed and selected, the "

Add to Cart

" button will be activated.
Click on the Add to Cart button.
Prior to ordering you get to see how your choices will appear on the on the tag before checkout. You can make changes if you don't like what you see.
If you are happy with your selections and how they look, click the Checkout button and follow all on-screen instructions.
Product Reviews and Rating
There are 482 customers who have purchased this product and have given these tags an average rating of 4.7 out of 5 stars, which is outstanding.
You can read all of the customer reviews
with the latest ones listed first, by clicking on the link.
Frequently Asked Questions
Below are the most frequently asked questions concerning this product.
1. Why doesn't it let me customize? Answer: To order, please follow the following steps:
Add Item to Your Cart
Check "This is a gift"
Proceed to Checkout.
In the Gift Message Center Enter: (1) Color (2) Font type (3) Pet Info. 3 lines of text, up to 15 characters per line.
Note: If you order the ID tags using Amazon, follow the steps in the Instructions For Ordering ID Tag paragraph above. Click on the link to take you there, or scroll up to that section.
Shop Laser Etched Glitter Paw Pet ID Tags
You can shop for the Laser Etched Glitter Paw Pet ID Tags by selecting or clicking on the image below. You will be taken directly to the Amazon ordering page. Once there, click on the "Customize Now" button to begin the ordering process.
Follow the steps in the "How To Order Instructions" above.
As an Amazon associate, I earn from qualified purchases.

CUSTOMIZE NOW Laser Etched Glitter Paw Pet ID Tags FREE Custom Personalized for Dog & Cat Paw Print Tag
Go back to Dog.Dog Luxury Beds home page
Laser Etched Glitter Paw Pet ID Tags
$5.99
Polish Nickel Plating on Metal
9.0/10
Pros
Each tag comes with a stainless steel split ring and they will not rust.
12 colors to choose from: 1) Black; 2) Blue; 3) Green; 4) Gold; 5) Orange; 6) Pink; 7) Red; 8) Rose; 9) Silver; 10) Turquoise; 11) Violet; 12) Brown and 11 fonts.
Tags are laser etched (permanent) and measures 1-1/16
Hard clear epoxy coating on glitter face.
Identifies your pet if they should get lost.
Cons
The ordering process.
Three lines up to 15 characters.