The Collapsible Bowl To Feed & Hydrate Your Dog On The Go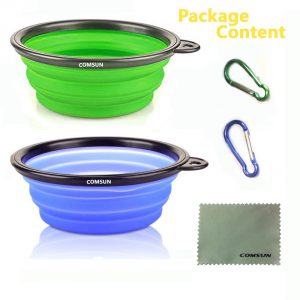 Many pet owners like to take their pets with them when they travel, go hiking, or camping out. Part of this process is making sure your dog has food and water so they don't get dehydrated or hungry along the way. The travel collapsible dog bowl provides pet owners with a convenient way to pack a bowl that can be used on the trail, in camp, on vacation, or any time you are away from home. This bowl has a fastener that can be attached to your belt loop so they don't get lost.
These bowls are small enough to store in your purse, backpack, pocket, and glove compartment in your car. They are very portable and convenient and come in three colors.
The bowls only weigh only 2.3 ounces, have a height of 0.5 inches to 2.1 inches, and width of 5.1 inches so it won't get in the way while you are jogging or hiking.
Because they are collapsible, you can give your dog water or dog food anywhere you are at any time. Included are matching carabiners which can be clipped to hiking gear, backpack or collapsed to fit in smaller containers.
The bowls can hold up to a maximum of 12 fluid ounces of liquid and up to 1.5 pounds of dog food.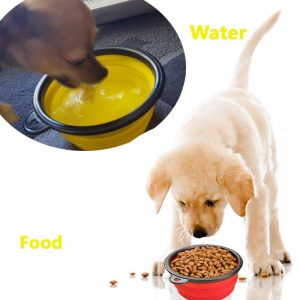 Product Specifications
Material: 100% FDA Approved Silicone
Note: The price for this product is subject to change without notice.
Price: $6.99 (2-Pack); $8.99 (3-Pack)
Color: Blue & Green (2-Pack) Yellow (3-Pack)
Plastic: Food Grade, BPAfree, Lead Free
Number of Bowls: 2 or 3 (2-pack, or 3-pack)
Width:1 inches
Max Height:1 inches
Minimum Height:5 inches
Weight:3 ounces
Carabiner: 2 with 2-pack or 3 with 3-pack
Cleaning Cloth: 1
Warranty: Lifetime
Safety Concerns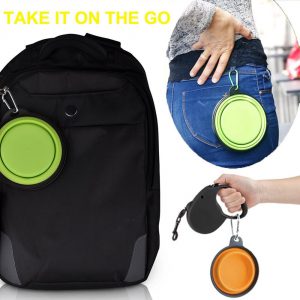 After use, always wash the pet bowls to help prevent cross contamination and the spreading of germs. This product is also dishwasher safe.
When filling with liquid or dog food, hold filled bowl with both hands underneath the rim. There are no tops or lids for these bowls since they collapse for storage.
The pictures of these bowls show one bowl collapsed and the other opened which looks like there are lids that come with the bowls. This is not the case. All the bowls are collapsible for easy transport or storage.
The bowls are mainly to be used for small to medium size dogs.
Read Customer Reviews
You can read all of the 700 plus customer reviews for this product by clicking on the link. Let the customers who have purchased these bowls tell you how much they like them.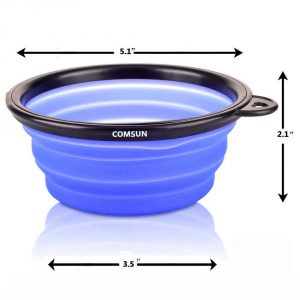 Conclusion
These bowls are very handy, convenient, light, and will make it easy to provide food and water wherever you take your pet. Now, camping trips or hiking along trails will not be an issue if you want to take your pet as a companion.
The bowls come in 2-packs or 3-packs, where you can store one in the backpack, car, and purse so one is always available when it's needed.
Buy Your Dog Bowl
You can purchase these dog bowls in a 2-pack or 3-pack, by clicking in the link below. You will be taken to the Amazon product ordering page.
As an Amazon associate, I earn from qualified purchases.
Travel Collapsible Dog Bowl
$6.99 (2-Pack), $8.99 (3-Pack)
Portable & Convienant
9.5/10
Great For Parks, Camping & Walking
9.5/10
Durable & Reusable
9.5/10
Pros
Collapsible dog bowl is 5.1 inches wide, 2.1 inches height, each bowl holds up to 12 fluid ounces of water or 1.5 cups of dog food. - 0.5 inches when compact - simply Pop-Up and then fold away.
Made with high quality flexible Food-Grade silicone, 100% lead­free, BPA­free, FDA approved.
The bowl's durable silicone construction means that they can be rinsed or wiped clean after use. also gives the bowl greater longevity over other similar products.
Non-Slip collapsible dog bowl set great for travel dog bowl, pet travel bowl and cat food bowl.
Price.
Cons
Holds up to 1.5 cups of water.
For proper hygiene, always wash pet products after each use to prevent cross contamination and spreading of germs.