Toy Name: Starmark Everlasting Treat Chicken
Product Description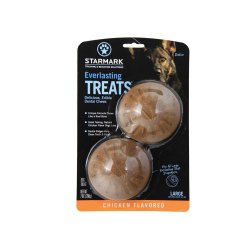 The Starmark Everlasting Treat Chicken flavor treats are made with specially formulated ingredients that are completely edible and digestible. Everlasting Treats are bursting with flavor providing long-lasting chewing enjoyment for your dog. Their unique shape and raised dental ridges safely scrub your dog's teeth for a brighter smile and helps remove tartar build-up.
This treat used with the treat ball will provide your chewer some wonderful fun time especially when he is alone. He will not be chewing up things that are off limits. You may just want to keep plenty of these treats on hand.
Just insert the healthy treats into the large Everlasting Treat Ball and watch your dog play for hours with this treat toy ball. It is also great for interactive play to help bond with your dog.
This treat is available in chicken, liver, vanilla mint and barbeque. Comes in small or large 2-packs.
Product Features
Below are the features about this product.
Quality and performance driven products for your pet

Tested for safety and health

Provide a better quality of living for your pet

Everlasting Treats can be used alone or with the StarMark Everlasting Treat's ball

StarMark creates innovative toys and training products that reflect the way dogs learn and have fun

StarMark's pet products division brings you the benefit of their vast experience working with thousands of dogs and their owners

Chicken flavored

Two treats per pack

Treats are made in China
Dimensions: 3.2 x 3.2 x 1 inches
Weight: 7 ounces
Price: $3.59
Note: The price for this product is subject to change without notice.
Brand: Starmark
Toy: Refill Fits Into Starmark Everlasting Treat Ball Large Toy
Color: Brown
Product Rating: 4.1
Category: Chew Toys
For Dog Size:
Reviews: Read the Customer Reviews!
Frequently Asked Questions
Below are some of the most frequently asked questions about this product.
Where are the treats made? Answer: In China.
How long to these treats last? Answer: Depends upon the dog. For some a few hours and others a few days or more.
Do these treats fit into Starmark's Everlasting Groovy Ball? Answer: No. They fit into Starmark's Everlasting Treat Ball.
Why is there garlic powder in them if dogs cannot have garlic? Answer: It's a small amount of garlic. If your pet is allergic, then don't purchase the treats.
2-pack means four (4) pieces? Answer: No. Just two (2) pieces.
Who says there made in China? My package says proudly says USA. True? Answer: On the back of my package in small letters at the bottom it says "Made in China". Nowhere on my package does it say made in the USA. But the company that distributes this (Starmark) is based in Texas.
Shop Starmark Everlasting Treat Chicken
To shop for product, click on the image below where you will be taken to the Amazon ordering page. Once there you can select the item and place your order. You have the option to buy single treats for small, medium, and large sizes. Two packs come in small and large sizes only. The treats fit into the Everlasting Treat Ball Large Toy. Chicken flavor only.
As an Amazon associate, I earn from qualified purchases.
Starmark Everlasting Treat Chicken
Go back to Dog.Dog Luxury Beds home page.