Toy Name: KONG Wubba Dog Toy
Product Description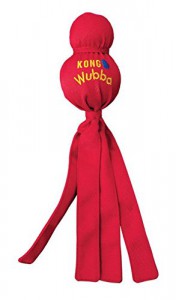 Are you looking for a interactive toy for your dog? If the answer is yes, then look no further. The KONG Wubba Dog Toy is great for playing games of toss, tug, and fetch. It's made of reinforced nylon fabric and covers two rubber balls – a tennis ball on top and a squeaker ball beneath for added fun.
Dogs like balls and this toy has two for him to figure out. He will enjoy playing with you using this toy which will bring the bonding even closer.
The toy comes in various colors which you do not select as the color is chosen at random by the seller. Regardless of the color, this will be a great toy to add to your collection of interactive toys you can play with your dog.
This toy is not a chew toy. If left alone with this toy, your dog will completely destroy it very quickly. This toy is designed for interactive play between owner and pet.
Note: All interactive toys should not be given to your pet to play with alone. They should only be used when you have your interactive playing sessions together.
This toy comes in the following sizes:
Small (8.8 x 2 x 2.2 inches)
Large (13 x 3 x 3 inches – pictured)
X-Large (17 x 3.5 x 3.8 inches)
Product Features
Below are the features for this product.
For large breed dogs

Toss and tug toy

Great for fetch

Durable reinforced nylon construction

With tennis ball and squeaker ball

Dimensions: 13 x 3 x 3 inches
Weight: 6.6 ounces
Price: $10.15
Note: The price of this product is subject to change without notice.
Brand: KONG
Toy: Wubba
Color: Colors Vary – Random
Product Rating: 4.2
Category: Toss & Rope Toys
For Dog Size: Large Dogs
Reviews: Read the Customer Reviews!
Frequently Asked Questions
Below are some of the most frequently asked questions about this product.
Are these toys suitable for Staffi dogs? Answer: They are pretty durable, but the fabric will fray and tear with really aggressive chewers. My dogs don't chew on their toys, so we have gotten a lot of use out of these toys.
Does this toy float? Answer: I have purchased this version (Large) before and it does float in the pool/Ocean. It is our toy of choice when we take the dog to the beach. Of course as others have mentioned there is also a wet version which I have not yet tried out.
I got a Jack Russell Terrier. How long would it last? Answer: Depends on if the dog is a power chewer. I have several dogs. . . most of them can play with this forever, one of them will chew up ANYTHING if left to her own devices.
Shop KONG Wubba Dog Toy
To shop for product, click on the image below where you will be taken to the Amazon ordering page. Once there, you have the option to select any of the three sizes.
As an Amazon associate, I earn from qualified purchases.
Go back to Dog.Dog Luxury Beds home page.
KONG Wubba Dog Toy
$10.15
Durable Reinforced Nylon
9.0/10
Great Interactive Toy For Bonding
9.5/10
Easy To Toss & Throw
9.5/10
Pros
Durable reinforced nylon fabric covers two balls — a tennis ball on top and a squeaker ball beneath.
The long tails make it easy to pick up and throw.
This toy is great for interactive play and bonding with your pet.
Great toy for playing games of tug and fetch.
Price.
Cons
Made in China.
This is not a chew toy and supervision is required.
Discontinue use if worn, loose, or torn pieces occur.