Toy Name: OurPets IQ Treat Ball Dog Toy
Product Description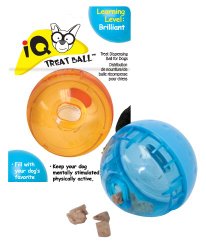 Dog owners must come up with some challenging ways for their dogs to get exercise and stimulate their minds too. The OurPets IQ Treat Ball Dog Toy is designed to just that. Not only does it dispense their favorite treat or food to reward them but, stimulates them and provides exercise to get out all of the treats or kibble inside the ball. Once your pet knows there is something good in the toy, they will play with it until all of the treats are gone.
Dogs are smart animals and the more challenging you get with their toys will help them with valuable exercise and mind stimulation which is good for their health.
Fill the toy with treats or kibble, set your desired difficulty level using the ball's adjustable interior insert, and let your dog roll the ball across the floor to try to release the food inside.
The toy is available in 3" and 5" sizes.
Video Review of The IQ Treat Dispensing Toy

Product Features
Below are some of the features of this product.
A fun pet ball to keep your dog mentally and physically stimulated!

Fill the ball with your dog`s favorite treats or food

Ideal for medium to large sized dogs

Adjust difficulty level as your dog learns

Rolls on the floor and treats spill out

Two sizes: 3″ or 5″
Dimensions: 4.4 x 4 x 4 inches
Weight: 4 ounces (without treats or kibble)
Price: $11.42
Note: The price for this product is subject to change without notice.
Brand: OurPets
Toy: Treat Dispensing Toy
Color: Colors Vary
Product Rating: 4.1
Category: Puzzle Toys, Interactive Toys
For Dog Size: Medium to Large
Reviews: Read the customer reviews!
Frequently Asked Questions
Below are some of the most frequently asked questions about this product.
Since the IQ ball is plastic, will a large dog break it? Answer: No. However, if this toy is left with him alone it is possible with strong chewing dogs. This is an interactive toy that should be used under supervision.
How do you clean it? Answer: it twists apart quite easily, into 3 separate parts that can be cleaned by washing. not so sure it would be ok in the dishwasher. The top & bottom of the ball just screws together and is very easy to clean. It is really a well made and great product!
Is this toy loud on a wood floor? Answer: Yes. Not as loud on a rug but more challenging.
Where is it made? Answer: In China.
Can you adjust the size of the opening? Answer: Not on the outside of the ball. On the inside of the base, you can adjust the size to make it more difficult or easy for the treats or kibble to come out.
What size treats or kibble should I use? Answer: Use treats or kibble that are smaller than the largest size openings on the base and outside of the ball.
Does this toy ship internationally? Answer: Yes.
Can I request my color when ordering? Answer: No. They ship at random.
To shop for product, click on the image below where you will be taken to the Amazon ordering page. Once there, you can select the 3-inch or 5-inch IQ balls. The 5-inch ball is pictured below.
As an Amazon associate, I earn from qualified purchases.
Go back to Dog.Dog Luxury Beds home page.
OurPets IQ Treat Ball Dog Toy
$11.42
Promotes Physical Activity and Exercise
9.5/10
Adjustable Activity Levels
9.5/10
Twists Apart For Easy Cleaning
9.0/10
Promotes Active Feeding
9.0/10
Slows Down Feeding
9.0/10
Pros
Toy can be filled with treats or kibble.
Four levels of difficulty.
Comes apart for easy cleaning.
Keeps pet active and occupied while you are away.
As your dog plays and the rolls the ball, treats will fall out to reward them for being active.
Cons
Price.
The color orange or blue will be determined at the time of shipping.
This toy is recommended for small to medium size dogs.