Toy Name: Outward Hound Tail Teaser Squeak Toy
Product Description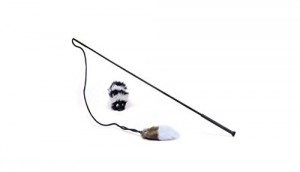 If you should have a high energy, high strung dog, then the Outward Hound Tail Teaser Squeak Toy is just for you. This toy can be used both indoors and out. It will provide your dog with hours of fun and exercise to deplete him of his massive energy build-up.
The toy is unique in that it has a durable nylon chord and a flexible pull rod with a furry toy hanging at the end to make your dog chase and chase after it. All the while you are moving it which gives your dog much needed exercise as he chases it.
This toy may develop into one that your dog will get excited about when you are holding it in your hand prior to playing or starting an exercise session with him.
This is an interactive toy between owner and dog and should only be used during these type of sessions. It is not a toy to be given to him to play with on his own.
The toy should be able to stand up to toughest tuggers! On your mark, get set, chase!
Product Features
Below are some of the features of this product.
Durable nylon chord for tough tuggers

Chase and tug action keeps dogs playing

Two faux-fur tails squeak and rattle

for added fun and excitement
Dimensions: 36.6 x 2.4 x 7.5 inches
Weight: 5.6 ounces
Price: $16.35
Note: The price for this product is subject to change without notice.
Brand: Outward Hound
Toy: Rod with two faux-fur tails
Color: Black
Product Rating: 4.5
Category: Interactive Toys
For Dog Size: All dogs.
Reviews: Read the Customer Reviews!
Frequently Asked Questions
Below are some of the most frequently asked questions about this product.
How long is the pole and how long is the cord? Answer: The pole is 36″ and the cord is 45″, plus a 6 inch long fuzzy toy on the end. It's really sturdy and I love it- I can play with my cat and dog at the same time!
Are the tails small enough for my Chihuahua to get a grip on it and squeak it? Answer: My mom has a 10lb toy poodle and she loves it. It is the best toy she has ever bought and we love it too. Even if your chihuahua cant squeak it, it will bring hours of fun just chasing it and chewing it. My puppy didn't figure out it squeaked for 6 weeks. Have fun!
Does it include a rod and two tail teasers? Answer: Yes.
Is this a bungee rope material? Answer: No. The cord on this toy is made of a durable nylon.
Does the rod fold for easy travel? Answer: No.
Can the cord be shortened? Answer: I suppose if you want to tie a couple knots in it? But it's not adjustable.. No. The cord is not adjustable until you somehow splice it.
Is there a smaller size or only the large size? Answer: No. Only large size.
Shop Outward Hound Tail Teasers Squeak Toy
To shop for product, click on the image below where you will be taken to the Amazon ordering page.
As an Amazon associate, I earn from qualified purchases.
Outward Hound Tail Teaser Squeak Toy
Go back to Dog.Dog Luxury Beds home page.
Outward Hound Tail Teaser Squeak Toy
$16.35
Durable Nylon Chord
9.0/10
Tail Toy Has A Squeaker
8.5/10
Helps Puppies During The Teething Period
9.0/10
Two Faux-fur Tails Squeak and Rattle
9.0/10
The Chase Feature Keeps Dogs Playing
8.5/10
Pros
This chasable, tuggable luring toy provides exercise and entertainment indoors & out.
Features a durable nylon chord and flexible pull this toy is sure to stand up to tough tuggers.
Durable nylon chord for tough tuggers
The tail toy has a squeaker for added fun.
The chase and tug action keeps dogs playing.
Cons
Price.
Colors will vary.
This toy is designed for interactive play only.