A Train Me Treat Keeps Pets Focused On Task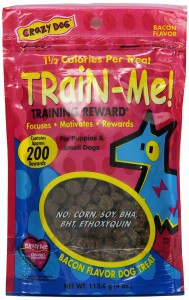 All dogs like to receive some positive rewards during training sessions and treats do just that. Rewarding pets for doing something the owner is teaching their dog some new commands like "sit" is just the right thing to do.  The Crazy Dog Training Treat Mini Bacon is the treat to give pets when they perform positively to your verbal commands. These particular treats have an unusual smell that dogs just love and can't wait to receive it.
By using these dog treats you will be able to get your dog better focused on the task you want him to perform and will also speed up his learning curve. The treat will attract, focus, motivate, and of course, reward your dog, which is the ultimate goal.
These treats are good to use because they are low in fat, calories, and high in protein and have a great bacon flavor which makes dogs go crazy for them. They are also small right out of the bag so they can be given to puppies and small dogs without having to cut them up into smaller pieces.
This brand of dog treats contains no BHA, BHT, and Ethoxyquin and meat is the number one ingredient.
A training treat reward should be very palatable and aromatic to entice your dog, get his attention, help him focus on the task and create the desire to accomplish it. The reward will satisfy your dog and motivate him to repeat the task. These threats do just that and will make your training job much easier.
Pet owners must learn to control treats being given to their dogs as treats should not exceed more than 10% of their total calorie intake for the day. Feeding your pet too many treats can lead to obesity which is not good for your pet. It's a must to keep treat feeding and rewards under control.
The Train Me treats have been tested and recommended by thousands of professional dog trainers which makes this dog and pet treat a win-win for all involved.
Product Description
Manufacture: Crazy Dog
Origin: Made in USA
Current Price: $3.79
Product Number: 89104
ASIN Number: B007RLDT94
Weight: 4 ounces (approximately 200 treats in package)
Meat is the #1 ingredient
No Corn, Soy, BHA, BHT, & Ethoxyquin
Low Fat
Low Calories (1.5 calories per treat)
Good for repetitive training
Add-on Item: This item ships only with orders that are $25 or more.
Note: The price of this item will vary from time to time due to any discounts being offered at the time of purchase and the popularity of the product on Amazon.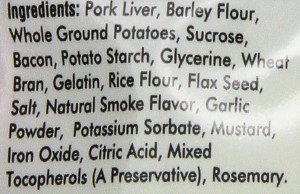 Product Ingredients
Below are the ingredients as they are listed in order on the product label.
Pork Liver
Barley Flour
Potato Flour
Sucrose,
Bacon
Potato Starch
Glycerine
Wheat Bran
Gelatin
Rice Flour
Flax Seed
Salt
Natural Smoke Flavor
Garlic Powder
Potassium Sorbate
Mustard
Iron Oxide
Critic Acid
Mixed Tocopherols
Rosemary
Guaranteed Analysis
Crude Protein: 12.0% (min)
Crude Fat:           7.0% (min)
Crude Fiber:       2.0% (max)
Moisture:         28.0% (max)
Ash:                     3.0% (max)
Magnesium:     .014% (max)
Customer Reviews and Product Rating
This product has been purchased by 100 customers who have rated this item with an average score of 4.7 out of 5, which is excellent.
You can read all of the customer reviews
by clicking on the link.
Shop Crazy Dog Training Treat Mini Bacon
Shop the Crazy Dog Training Treat by clicking on the image or text link below. You will be taken directly to the Amazon ordering page where you can purchase the product.
As an Amazon associate, I earn from qualified purchases.


Crazy Dog Training Treat Mini Bacon 4oz
Go back to Dog.Dog Luxury Beds home page.
Crazy Dog Training Treat Mini Bacon
Low Calories & Fat
9.5/10
No BHA, BHT, Ethoxyquin, Corn & Soy
10.0/10
Treat Good For Repetitive Training Sessions
9.0/10
1.5 Calories Pet Treat
9.5/10
Pros
Created to Attract, Focus, Motivate & Reward Your Dog
Speeds up the learning curve!
Meat Is #1 Ingredient
200 Treats Per Bag
Made In USA
Cons
Treats Are For Puppies & Small Dogs
Other Flavors Available: Beef, Chicken & Salmon Must Be Ordered Separately