Toy Name: KONG Rubber Flyer Red Large
Product Description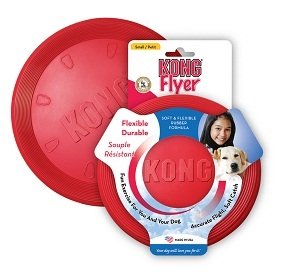 Here is another great KONG toy that will give your dog lots of fun chasing, catching, fetching, and exercise which is good for his health and burning off some of his excess energy. If your dog loves to play the games of fetch and catch, than this toy will be a tremendous hit. This toy promotes the bonding of owner and pet and is an excellent interactive toy too.
The toy is made of durable soft rubber which will not hurt his teeth and gums. Now you can exercise your dog in a safe, fun way using the KONG Flyer. It features accurate flight and the durable rubber creates a soft catch meaning your dog will want to catch it again and again!
The model shown here is the large one. A smaller version of this same toy is also available. The smaller version is 7-inches in diameter.
Product Features
Below are some of the features of this product:
Toy is made in the USA
Made of durable non-toxic natural rubber that is soft on dog's teeth and gums
Safer to play games of fetch than traditional plastic flyers
Weight: 8.2 ounces
Dimensions: 9″ in diameter and 1.1″ thick
Price: $10.77
Note: The price of this product is subject to change without notice.
Brand: KONG
Toy: Flyer
Color: Red
Product Rating: 4.2
Category: Toss & Rope Toys, Interactive Toys
For Dog Size: Up to 85 lbs.
Reviews: Read the Customer Reviews!
customer reviews!
Frequently Asked Questions
Below are some of the frequently asked questions about this product:
Does this toy float? Answer: No.
Will this disc return to being flat after being folded in half? Answer: Mine does. Usually when our dog (cattle dog) catches it, it folds. Then he runs around with it. Tries to tear it up. It always goes back to regular shape and has not torn yet. We have had it over a month and it has lasted longer than any other toy.
Is this toy easy for a medium size dog to pick up off the ground? Answer: Yes. It is flexible enough for a dog to pick up easily.
Is this toy tough enough for my Basset to not chew into pieces? Answer: Yes.
Does this toy fly like a Frisbee, or are you just throwing it? Answer: It flies like a Frisbee but does not hurt your dog's teeth or tongue.
To shop for product, click on the image below. On the Amazon ordering page you can choose between both sizes.
As an Amazon associate, I earn from qualified purchases.
Go back to Dog.Dog Luxury Beds home page.
KONG Rubber Flyer Red Large
$10.77
Helps Promote Bonding Between Pet & Owner
9.5/10
Great Toy For Chasing & Playing Games of Fetch
9.5/10
Provides Exercise for Both Owner & Dog
9.5/10
Best Soft Rubber On Market
9.0/10
Pros
Promotes bonding between dog and owner.
Made with durable Kong classic rubber, the flyer won't hurt a dogs teeth during fun games of fetch and catch.
It features accurate flight and the durable rubber creates a soft catch meaning your dog will want to catch it again and again.
The flyer is nine inches in diameter.
Made In USA
Cons
Price
Toy for medium to large size dogs.