Create Excitement and Fun With Fetch Ball Toy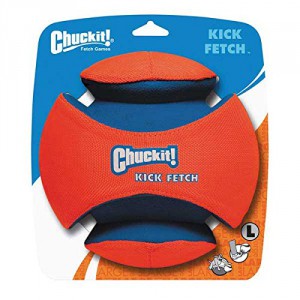 If your dog loves to play fetch, then the Chuckit Kick Fetch Ball Dog Toy is just the ticket for your dog to have lots of fun and exercise and burning off their excess energy.
The ball is the size of a soccer ball and lightweight and it's designed to be kicked into action. It has deep ridges which helps your dog to retrieve it easily. It is made of durable canvas rubber and foam which is puncture proof which should make this ball a favorite for all outside games last longer than most other ball toys.
You can safely take this ball to the beach, lake or pool as it floats. This ball is designed for medium to large size dogs. There is a smaller version of this ball for small to medium size dogs.
If it's nice outside, take your pet with you and play a great interactive game of kick and chase. Your dog will just love it. The bright orange color will make it easy to track and spot in large open areas.
Product Specifications
Below are the specifications for this product.
Brand: Chuck It
Model Number: 251201
ASIN: B0084DRJKO
List Price: $29.99
Last Price: $8.99
Weight: 9.8 ounces
Color: Orange
For Dog Size: Medium to Large
Dimensions: 7.8 x 7.8 x 7.8 inches
Category: Interactive, Ball
Just give it a kick to start the game
Ideal for interactive outdoor play
Grooves make it easy for your dog to pick up and retrieve
Similar in size to a soccer ball
Puncture resistant foam core
Made from natural high-bounce rubber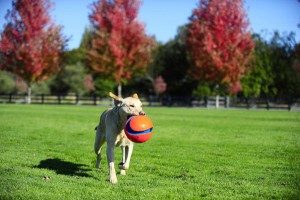 Product Reviews
You can read all of the 800 plus customer reviews
by clicking on the link.
Frequently Asked Questions
Below are some of the most frequently asked questions about this product.
Does this ball float? Answer: Yes.
Is this ball good for chewers? Answer: No. This is an interactive toy for outdoor play.
Is this toy too big for my 30 pound Poodle? Answer: Yes. Use the smaller size ball toy. The smaller ball measures 5.8 inches.
Does this toy bounce? Answer: Yes.
Is this toy washable? Answer: Yes. Use a hose and scrub brush. By placing it in the washing machine the ball would make a lot of noise.
Shop Chuckit Kick Fetch Ball Dog Toy
Shop the Chuckit Kick Fetch Ball Toy by clicking on the image below. You will be taken to the Amazon product ordering page. Once there, you have the option on ordering the large or small size ball.
As an Amazon associate, I earn from qualified purchases.

Chuckit! Large Kick Fetch Ball
Go back to Dog.Dog Luxury Beds home page.
Chuckit Kick Fetch Ball Dog Toy
Great For Games of Fetch
9.5/10
Floats Above Water for Water Play
9.0/10
Rubber, EVA Foam, Polyester Construction
9.0/10
Gentle On Dogs Mouth
9.0/10
Pros
Satisfies your dog's natural chasing and herding instincts
Grooved design allows your dog to easily pick up & bring right back to you
Kick Fetch to play for hours of interactive fun with your dog
Durable canvas, rubber and foam construction
Vibrant, high-visibility orange color makes this toy easy to track in large open spaces
Cons
Price
Toy Made For Large Dogs
Toy Is The Size of a Soccer Ball