A Grain Free Dog Food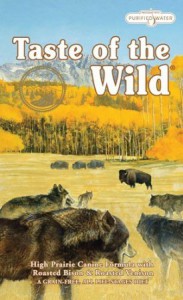 The Taste of the Wild Dog Food is a premium grain free dog food that has a higher protein and fat content than most other grain type dog food brands. It provides a healthier diet for your pet and will improve their health during their lifetimes. You will notice from the beginning that feeding your dog with this dog food, you will be using less of it as compared to grain kibble, because it has real meat and vegetables which is good for your dog.
The Taste of the Wild dog food is made with real roasted meats and supplemented with vegetables, legumes and fruits, these grain-free formulas provide a superior taste sensation, highly digestible energy and antioxidants to support a healthy immune system. There are no grains used in any of the Taste of the Wild dog formulas.
The food is processed with purified water known as reverse osmosis. In reverse osmosis, water is forced through extremely fine filters, removing microorganisms, organic chemicals and inorganic chemicals. The result is purified water, which is then used in the form of steam in the cooking process for Taste of the Wild dry pet food.
Eating this food will provide your dog with a healthier coat and skin. Yes, it will cost you more than what you are currently buying, in the long run it will be worth it.
This product comes in three sizes for convenience:
5-pound bag
15-pound bag
30-pound bag
Product Description
Made with roasted meats
Supplemented with fruits and vegetables
K9 Strain® Probiotics
Prebiotic Fiber
Optimal Amino Acids
Omega Fatty Acid Blend
Delivers natural antioxidants
Grain-free dog food for all life stages
Lean bison and venison meat, roasted for great flavor
Packed with highly digestible protein and antioxidants
Supports a healthy immune system
Product Specifications
Manufacture: Taste of the Wild
Item Model Number: 418581
ASIN Number: B000W5SLB8
Flavors: Bison & Venison, Lamb, Seafood, Beef, Wildfowl, Roasted Lamb, Liver & Sweet Potato
Weight: 5-pounds, 15-pounds, & 30 pound bags
Price: $44.89 (30 lbs.), $25.99 (15 lbs.), $9.99 (5 lbs.)
Note: The price for this product is subject to change without notice.
Origin: Some ingredients come from outside the U.S.
Protein: 32% minimum; Fat: 18% minimum
Calories: 3,719 kcal/kg (370 kcal/cup)
Calculated Metabolizable Energy
Product Ingredients
The ingredients for this product are listed below in order as they appear on the label.
Bison, venison, lamb meal, chicken meal, egg product, sweet potatoes, peas, potatoes, canola oil, roasted bison, roasted venison, natural flavor, tomato pomace, ocean fish meal, choline chloride, dried chicory root, tomatoes, blueberries, raspberries, yucca schidigera, Enterococcus faecium, Lactobacillus casei, Lactobacillus acidophilus, Saccharomyces cerevesiae fermentation solubles, dried Aspergillus oryzae fermentation extract, vitamin E supplement, iron proteinate, copper proteinate, ferrous sulfate, zinc sulfate, copper sulfate, potassium iodide, thiamine mononitrate (vitamin B1), manganese proteinate, manganous oxide, ascorbic acid, vitamin A supplement, biotin, calcium pantothenate, manganese sulfate, sodium selenite, pyridoxine hydrochloride (vitamin B6), vitamin B12 supplement, riboflavin (vitamin B2), vitamin D supplement, folic acid
Product Directions
Below are the directions on the feeding portions based on your dog's weight:
3 to 5 lbs.         – 1/3 to 1/2 cup per day
5 to 10 lbs.       – 1/2 to 3/4 cup per day
10 to 20 lbs.     – 3/4 to 1 1/2 cups per day
20 to 30 lbs.     – 1 1/2 to 2 cups per day
30 to 40 lbs.     – 2 to 2 1/3 cups per day
40 to 60 lbs.     – 2 1/3 to 3 cups per day
60 to 80 lbs.     – 3 to 3 3/4 cups per day
80 to 100 lbs.   – 3 3/4 to 4 1/3 cups per day
100 to 125 lbs. – 4 1/3 to 5 cups per day
125 to 150 lbs. – 5 to 5 3/4 cups per day
150 to 175 lbs. – 5 3/4 to 6 1/2 cups per day
Note: You may have to adjust the serving portions to fit your dog's exercise activity and breed as these are approximations for feeding based on the weight of your dog. If you notice your dog gaining weight, lower the portion. The opposite is true if your dog is losing weight.
Product Reviews and Rating
There are over 10,000 customers on Amazon who have purchased this product and have rated this item with an average score of 4.5 out of 5, which is excellent. This product is a number one best-seller on Amazon in the Pet Supplies Food category and #1 in the Pet Supplies Dry Dog Food category.
You can read all of the customer reviews
by clicking on the link.
Frequently Asked Questions
Below are some of the frequently asked questions about this product. There are over 100 questions for this product.
Has the salmonella issue been resolved? Answer: Yes.
Is this food good for senior dogs? Answer: Yes. It is high in protein which all dogs at all life stages need for healthy muscles.
Is it necessary to mix dry kibble with wet canned food? Answer: No.
Are the kibbles small enough for a 10 lb. Havanese? Answer: The kibble are the size of a pencil eraser. Hope that helps.
When was this food recalled in 2013? Answer: They had a voluntary recall of food produced between December 9, 2011, and April 7, 2012, due to salmonella concerns. Here is the link to check this out. http://www.petmd.com/news/alerts-recalls/nws_diamond_pet_foods_taste_of_the_wild_pet_food_recall_050512-18179. Phone Number: 1-866-918-8756. You should have no worries about food produced now.
Is this food GMO-free? Answer: Taste of the Wild is committed to utilizing as many GMO-free ingredients in all of our formulas. However, there are some nutrients that are critical to an animal's health that are not available GMO-free, specifically canola oil. Our choice is to include these ingredients or manufacture our foods without them, which, in our view, would be in the best interest of your pet.
What is the protein content of the high prairie formula? Answer: Minimum 32%.
What kind of expiration date can I expect if I purchased a bag today? Answer: 10 months.
How many servings are in each bag? Answer: 126 cups in the 30 lb. bag.
Where is this food packed? Answer: The company is in Missouri but some ingredients come from outside the USA.
Is this food good for small dogs? Answer: Yes, the pieces are small and easy for them to chew.
What kind of packaging does this bag shipped in? Answer: It comes in a box and is well sealed.
Does the bag have a resealable top? Answer: No.
What is the protein and fat content? Answer: 32% protein and 18% fat.
Shop Taste of the Wild Dry Dog Food
Shop Taste of the Wild dry dog food by clicking on the image or text link below. You will be taken directly to the Amazon product ordering page where you can select the size and formula dog food with your order.
As an Amazon associate, I earn from qualified purchases.


Go back to Dog.Dog Luxury Beds home page.