Toy Name: KONG Squeezz Ball Dog Toy Medium
Product Description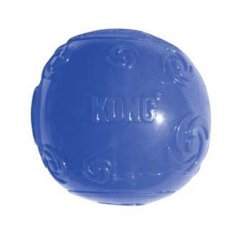 Dogs just like playing with balls and if there is one that can squeak it makes the playing more enjoyable for all. Now, you can get a KONG Squeezz Ball Dog Toy Medium which is a ball with a built in squeaker to make interactive sessions more fun. This toy is especially for medium size breed of dogs.
The KONG Squeezz Ball has a recessed squeaker that your dog cannot get to. It's made so that the the Squeezz Ball has recessed hidden squeakers that keep the squeak going even when the toy is punctured. Great for playing games of fetch the erratic bounce and squeak guarantee tons of fun for you and your dog.
The toy comes in four colors:
Amethyst (Purple)
Emerald (Green)
Ruby (Red)
Sapphire (Blue)
The color cannot be selected when ordering as its selected at random when shipped.
Product Features
Below are some of the features of this product.
Easy to squeak

protected recessed squeaker

Fun, erratic bounce

Durable, non-toxic material

All Squeezz products are sold in assorted jewel tones

ruby, sapphire, emerald and amethyst

Suitable for medium breeds

Dimensions: 2.5 x 2.2 x 2.5 inches
Weight: 0.2 ounces
Colors: Ruby, Amethyst, Emerald, and Sapphire (Color selected at random)
Price: $3.99
Note: The price of this product is subject to change without notice.
Brand: KONG
Toy: Ball
Color: Random
Product Rating: 4.0
Category: Ball Toys, Interactive Toys
For Dog Size: Medium
Reviews: Read the Customer Reviews!
Frequently Asked Questions
Below are some of the most frequently asked questions about this product.
Is medium a standard tennis ball size? Answer: The medium ball is 3-inches in circumference.
Where is this toy made? Answer: In China.
Does the medium size KONG Squeezz Ball Dog Toy fit the tennis ball launchers? Answer: Yes.
Does this ball float? Answer: Yes.
Is this toy good for a 3 month Beagle? Answer: It's the size of a tennis ball or a medium chuck-it ball. Your dog will grow into it. It's fairly flexible.
Shop KONG Squeezz Ball Toy Medium
To shop for product, click on the image below where you will be taken to the Amazon ordering page. Once there you can select the item and place your order. The toy pictured below is the medium size ball.
As an Amazon associate, I earn from qualified purchases.
KONG Squeezz Ball Dog Toy Medium (Blue)
Go back to Dog.Dog Luxury Beds home page.
KONG Squeezz Ball Dog Toy Medium
$3.99
Designed With A Unique And Enticing Crackle Sound
9.0/10
The Toy Is Ideal For Quiet Play
8.5/10
Great For Playing Games of Fetch
9.0/10
Toy Boasts An Eye-Catching Sparkle
9.0/10
Pros
Designed with a unique and enticing crackle sound, which is ideal for quiet play.
Squeeze crackle is brightly colored and boasts an eye-catching sparkle.
Ideal for playing games of fetch.
Cons
The color (Purple, Green, Red, & Blue) cannot be selected when ordering as its selected at random when shipped.
An aggressive dog chewer will destroy this toy within minutes.
This toy does not float.