Toy Name: Loofa Dog Plush Dog Toy
Product Description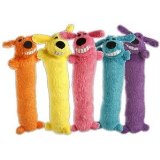 This toy comes with a squeaker to help your pet get lots of exercise by playing with this toy. It is soft so it will not be hard on his mouth. This item comes in two sizes:
Small: 12 Inches in length
Large: 18 Inches in length
The color options are:
Orange
Yellow
Pink
Teal
Purple
The colors will vary when ordering because you cannot specify the color you want.
Product Features
Plush toy for a dog
The toy squeaks to help keep the pet entertained
Price: $3.24 (Large – 18 Inch)
Price: $3.19 (Small – 12 Inch)
Note: The price of this product is subject to change without notice.
Brand: Multipet
Toy: Loofa Dog
Color: Colors vary
Product Rating:
Category: Plush Toys
For Dog Size: Small to Large
Reviews: Read Customer Reviews!
To shop for product, click on the image below. You will be taken to the Amazon product ordering page.
As an Amazon associate, I earn from qualified purchases.
Go back to Dog.Dog Luxury Beds home page.
Loofa Dog Plush Dog Toy
$3.19 (Small), $3.24 (Large)
Made of Non-Toxic, Pet Safe Materials
9.0/10
Squeakers Inside Toy
8.5/10
Can Be Used As A Retriever And A Back Scratcher
8.0/10
Pros
Price.
Toy is made of non-toxic, pet safe materials.
The squeakers inside make toy interesting.
It's soft and plush.
This toy will help keep your pet entertained.
Cons
Color is chosen at random.
Toy will not hold up well with aggressive chewers as they will destroy it.