Squeaker Ball with Rope Toy
Toy Name: KONG Squeakair Ball with Rope
Product Description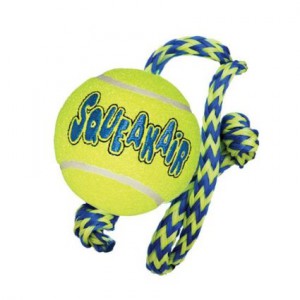 This toy is ideal if your pet loves tennis balls. He will go wild over the rugged Air KONG Squeakair Tennis Ball with Rope Dog Toy. As you know, dogs just love tennis balls and these balls are different because they never bounce the same way twice which make them unpredictable and there's a squeaker inside that dogs love.
With this toy it's the fetch, fun, play, run, and smile toy and helps bond owner and pet together. The color is bright enough to be found in snow and at the beach. This KONG Air Squeaker Toy is made with 100% pure tennis ball material made in the same factory using the same materials as the high-quality tennis balls.
This ball is not for chewing. This is an interactive toy and should always be used under supervision of owner and dog together. This is not to be given to your dog to play with when you are gone or whenever your pet is alone. Before using, remove all tags and hangers. Discontinue use of the toy whenever its worn, loose or has any torn pieces.
Product Features
Below are some of the features of this product.
Toy is 100% pure tennis fetch toy
Extra long rope for tossing
Toy with rope is about 16 inches long
The ball is 2.5 inches in diameter
Nonabrasive
Non-toxic
Felt cover wont wear down your dog's teeth
Squeaker added for excitement
Price: $3.80 (Price is for one ball)
Note: Prices are subject to change without notice.
Brand: KONG
Toy: Ball
Color: Yellow
Product Rating: 3.5
Category: Ball, Interactive Toys
For Dog Size: Small to Large
Reviews: Read the Customer Reviews!
by clicking on the link.
Frequently Asked Questions
Below are some of the most asked questions with answers:
How long is the rope? Answer: 15 inches.
Where is the product made? Answer: It is designed and tested in the USA, but made in C

hina.

Description says tennis ball material. Is it really tennis ball material? Answer: It's much more smooth than a tennis ball. The fibers are much shorter and my dog wasn't able to pull them off like she can with real tennis balls.
Shop KONG Squeakair Tennis Ball with Rope
To shop for product, click on the image below. You will be taken to Amazon where you can place the order.
As an Amazon associate, I earn from qualified purchases.


Go back to Dog.Dog Luxury Beds home page.
KONG Squeakair Ball with Rope
$3.80
Long Rope For Throwing
9.0/10
Squeaker for added entertainment
9.0/10
Nonabrasive and nontoxic felt cover
8.5/10
Pros
Great Fetch Toy
Long Rope For Tossing
Squeaker Added For Extra Fun
Non-Abrasive & Non-Toxic
Cons
Not A Chew Toy
Must Throw Away If Worn, Lose, or Torn
Price