Toy Name: Outward Hound Hide-A-Squirrel Plush Dog Squeak Toy 
Product Description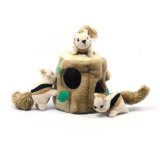 What's more fun than chasing squirrels at the park? How about chasing squirrels at home! Now, there is a toy version of your dog's favorite pastime. Just stuff the squeaky squirrels in the soft tree trunk, and watch your dog pull them out one by one. To keep the game going, just stuff them in again and again. These squirrels love to play!
The toy is good for playing the game of hide-and-seek with your pet. Each squirrel comes with a squeaker in it to help make it more fun for your dog during his playtime.
This toy may just become one of your dog's favorites. These toys are designed with durable material and an engaging array of shapes, sounds and textures to make your dog to have lots of fun watching him trying to pull out the squirrels out of the tree trunk.
To help your pet to get used to this toy, you may need to place some of his favorite treats in it to get him to learn how the toy works as its an interactive and puzzle toy all both at the same time.
This toy comes in the following sizes:
Junior – 4.5″ x 4.5″ x 4.5″ (Three Squirrels)
Large – 6.2″ x 6.2″ x 6.2″ (Three Squirrels)
Jumbo – 7.8″ x 7.8″ x 7.8″ (Three Squirrels)
Ginormous – 7.5″ x 13″ x 8″ (Six Squirrels)
You should be able to find the proper size toy for your dog.
Hide A Squirrel Toy In Action Video
Product Features
This product comes with the following pieces:
Three squeaky squirrels and a durable plush tree trunk (four pieces in all)
Hide and seek play pattern
Made with durable plush material
Dimensions: 7.5 x 13 x 8 inches
The first three size toys have 3 squirrels each, the last one has 6 squirrels
The item pictured is the Large toy (6.2″ x 6.2″ x 6.2″).
Price: $9.99
Note: The price for this product is subject to change without notice.
Brand: Outward Hound
Toy: Hide-A-Squirrel 4-Pieces or 7-Pieces
Color: Brown
Product Rating: 4.4
Category: Plush Toys, Interactive Toys, Puzzle Toys
For Dog Size: Small, Medium & Large
Reviews: Read Customer Reviews!
Common Questions and Answers
Below are some of the most common questions being asked along with the answers.
Is this toy machine washable? Answer: Yes.
Would this toy be of interest for my 2-year old Lab? Answer: Yes, if they like squeaky toys.
Are there squirrels available that do not make any noises? Answer: No. They all come with squeakers.
What is the best size for my dog that 50-75 lbs.? Answer: In most cases, the Ginormous, but the Jumbo could also work. Each size toy is based upon your pet's desire to get out the squirrels in the difficult areas of the tree trunk. However, the ginormous toy comes with six squirrels, were the others come only with three. If you have more then one dog, you might want to consider getting the ginormous so they both can play with the toy at the same time.
To shop for product, click on the image below. You will be taken to the Amazon product ordering page.
As an Amazon associate, I earn from qualified purchases.
Go back to Dog.Dog Luxury Beds home page.
Outward Hound Hide A Squirrel
$9.99
Helps Eliminate Boredom
9.5/10
Helps To Stimulate Exercise and Play
9.0/10
Perfect For Games of Toss & Fetch
9.0/10
Excellent for Both Indoor & Outdoor Play
9.0/10
Pros
Great for eliminating boredom.
Helps to stimulate exercise and play.
Great for playing games of fetch and toss. indoors or out
The squirrels come with a large squeaker for added fun.
This soft dog toy doubles as an interactive dog game that you can play with your dog! Stuff the Hide A Squirrel trunk with squirrels and place on the floor for your dog to sniff and scrounge.
Cons
Made in China.
Must select the proper size toy for your dog.
This toy should be supervised regardless of toy size for aggressive chewers.