Toy Name: KONG Wobbler Treat Dispensing Toy Small
Product Description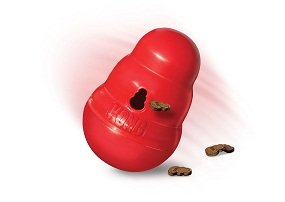 The KONG Wobbler Treat Dispensing Toy sits up until your pet pushes it down with their paws or noses. This is a great challenging toy to dispense treats or kibble to slow down your pet eating his meal.
The best part it dispenses treats as it wobbles spins and rolls. The unpredictable movement keeps the toy challenging even for the seasoned pooch. Use the Wobbler as an alternative to a dog bowl and help extend meal time and exercise your dog.
The Wobbler is a fabulous toy for playtime providing both mental challenge and physical activity for your dog. The whole family will enjoy watching the Wobbler in action. Be sure to have your camera ready for some fascinating pictures watching your dog getting at the treats.
This toy comes in two sizes, small and large. The small toy is pictured here.
The small KONG Wobbler holds up to 1/2 cup of kibble or treats, while the large KONG holds up to 1 cup.
Product Features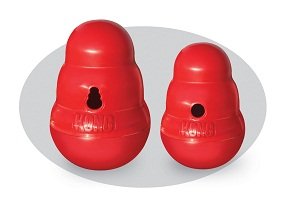 Below are the features for this product.
Dispenses food and treats for hours of fun

Helps prevent rapid eating

Entertaining wobble action

Twist off dispenser

Easy fill

Made in the USA

Measures 6-inches tall by 4-inches wide

Weighs: 9.9 ounces
Made of FDA food-approved high strength plastic polymer
Dishwasher safe
Use this toy as a mealtime feeder for dogs that eat too quickly and scarf food
List Price: $16.99
Last Price: $12.47
Brand: KONG
Toy: Treat Dispensing Toy
Color: Red
Product Rating: 4.3
Category: Puzzle Toys
For Dog Size: Dogs under 25 lbs.
Reviews: Read the Customer Reviews!
Frequently Asked Questions
Below are some of the most frequently asked questions about this product.
What is the size of the diameter of the hole on the small toy? Answer: 3/4″
My 4 month old puppy eats Eukanuba dry food and the pieces are really small. Would they fall out of the hole too easily? Answer: Not really. Some pieces will come out each time and your puppy will have to work for a while to make it happen.
Is this product BPA free? Answer: Kong website says it is made in the USA from FDA food-approved, high strength, plastic polymer.
Is it better for the dog to play with this on the carpet or hardwood? Answer: Wouldn't matter, the wobbler would be tossed around. The carpet would reduce the noise of the toy.
Is the wobbler easy to clean? Answer: Very easy to clean. The bottom screws off for loading/cleaning and all parts (inside/outside, bottom/top) are easily washable.
Will I be able to use this as a food feeder for my new 8 weeks old Boston Terrier? Answer: 8 weeks is still kind of young in my opinion. That said if it feels like your dog is scarfing down kibble faster than you can pour it, its probably ready for something like this. I use it on a two year old golden retriever to slow down how quick she ate her food. Started with a normal bowl, moved to a slow feeder bowl, then moved to this. It works great and I think its the best.
To shop for product, click on the image below where you can order this toy. While there, you have the option to choose the large KONG instead of the small one as pictured.
KONG Wobbler Treat Dispensing Toy Small
Go back to Dog.Dog Luxury Beds home page.