Toy Name: Nina Ottosson's Dog Brick Toy
Product Description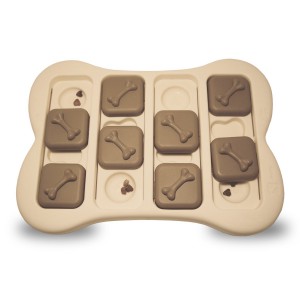 Dog's have keen minds that need to be challenged everyday. Now you can not only provide your dog with a challenge but also reward him at the same time. The Nina Ottosson Dog Brick Toy has just come to your rescue. This toy not only stimulates his mind but will also keep him occupied for hours and provides rewards.
This particular toy requires any dog to first dislodge the removable bones, then to push the sliding covers and access the hidden treats or food. The level of difficulty for the Brick can be varied, depending upon the dog's experience and his enthusiasm for the game.
This is a great interactive toy that will help dog and owner to bond very well together. It will also give him exercise while he is trying to find the treats.
Because this toy is made of plastic parts, they are easy to clean. They are also dishwasher safe.
It is recommended that this toy be under supervision until your dog learns how to solve the puzzle and remove the treats. This is an interactive toy and should not be left with your dog alone until he solves the puzzle. It is possible, if left alone, that he could chew the plastic parts and break them if your dog is an aggressive chewer.
Product Features
Below are the features of this product.
They are designed to stimulate a dog's brain and reinforce their relationship with the family.
Exercise your dog's mind and body
Help prevent and reduce behavior problems
Help prevent and reduce weight problems
Help strengthen the bond with your dog
Prevents boredom

Hours of entertainment

Ideal for all ages and breeds of dog

No assembly required

Can vary the level of difficulty

Dimensions: 17.5 x 11.5 x 2 inches
Weight: 1.6 lbs.
Difficulty Rating: Medium
Price: $33.74
Note: The price of this product is subject to change without notice.
Brand: Nina Ottosson
Toy: Dog Brick Puzzle Toy
Color: Brown & Lt. Brown
Product Rating: 4.3
Category: Puzzle Toys, Interactive Toys
For Dog Size: All age dogs
Reviews: Read the Customer Reviews!
Frequently Asked Questions
Below are some of the most frequently asked questions about this product.
What is the material? Answer: Plastic. Very very durable and much better than the particle board ones. I use this for my own dogs and training client dogs and there is not a mark on it!
Anyone have issues with pups getting frustrated and just chewing through the toy? Answer: No. I have all small dogs, so that's not a problem for me.
Is this toy too small for a Great Dane? Answer: NO. I have a German Shepherd AND she loves the games and have used it on a mountain dog, they love them…enjoy!
I have two dogs. Should I get two of the same puzzles or different ones for each? Answer: I would buy two different puzzles and have twice the options for both animals to play with. Nina Ottosson's toys are wonderful and dogs find them challenging until they learn them. At first, the challenge might frustrate one or both of your animals, so try to teach the dog, but if he doesn't get it, go to a different toy and then come back to the toy another time.
Is this toy safe for unsupervised play? Answer: The instructions on the box say no. I would not risk it. I would not want my dog to chew on any of the pieces. Depends on the dog. Will your dog keep chewing on the toy after it is empty?
Do the doors and bones move and or fall out if the toy is tipped on its side or turned over? Answer: The bones will fall out if you turn the toy upside down. The drawers will open if the bones are not in place.
Shop Nina Ottosson Dog Brick Toy
To shop for product, click on the image below where you will be taken to the Amazon ordering page. Once there you can select the item and place your order. Or, you have the option to buy the Spinny Toy, Tornado Toy, and the Dog Magic toy.
As an Amazon associate, I earn from qualified purchases.
Go back to Dog.Dog Luxury Beds home page.