Toy Name: Kong Low Stuffing with Squeaker Duck Toy Small
Product Description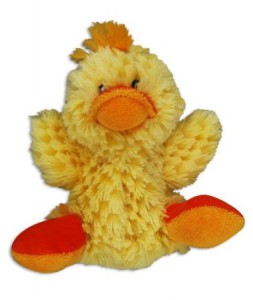 This KONG dog stuffed toy duck comes with squeakers that are replaceable and is perfect for small dog breeds. Besides the duck, this model has seven other characters to choose from.
The toy is good for dogs that are teething, to play fetch, and his general playtime, which will provide him hours of fun. If your dog is an aggressive chewer, then this toy might not be for him.
Other animal selections and colors:
Monkey – Brown
Frog – Green
Alligator – Green
Elephant – Red
Lion – Blue
Moose – Brown
Rhino – Purple
Product Features
The features of this product are listed below:
Product Type Duck
No messy filling
Easy To Replace Squeakers
Made with non-toxic materials
Made in China
Available in two sizes: Small & X-Small
Comes with an extra squeaker
Price: $3.99
Note: The price for this toy is subject to change without notice.
Brand: KONG
Toy: Low Stuffing Toy Duck With Squeaker
Color: Yellow
Product Rating: 4.1
Category: Plush Toys
For Dog Size: Small Dogs
Reviews: Read the Customer Reviews!
Frequently Asked Questions
Below are the most frequently asked questions about this product.
Is this toy machine washable? Answer: Yes. Be sure to remove the squeaker first.
Does this toy come with extra squeakers? Answer: Yes.
Where is this toy made? Answer: China
To shop for product, click on the image below. You will be taken to the Amazon product ordering page.
As an Amazon associate, I earn from qualified purchases.
Go back to Dog.Dog Luxury Beds home page.