Toy Name: Starmark Everlasting Treat Ball Large
Product Description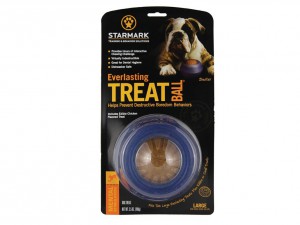 Are you looking for a toy what will challenge your dog and reward him at the same time? Now you have found your pot of gold in the Starmark Everlasting Treat Ball. This toy will stand up with the strongest chewers. You place some treats in the ball and an Everlasting Treat on the outside and let him have fun trying to get at the treats on the inside as well as outside.
The outside treat is very hard but is edible and safe to consume. The ball is made of soft, durable, puncture-resistant materials that stand up to tough chewers. This works very well in the chewing on the ball is a good dental hygiene toy for your pet. He will have hours of fun playing and chewing with it and working off some of his excess energy in trying to get at the treats.
With all chew toy products and treats, pets should be supervised as no product is completely indestructible. Pieces smaller than the mouth may present a choking hazard. When wet, treats may stain fabric and upholstery.
The toy comes in the following sizes:
Small (4 x 2 x 7″ 1.1 ounces)
Medium (3.8 x 3.8 x 3.8″ 1.8 ounces)
Large (5 x 5 x 3″ 7 ounces)
Video Everlasting Treat Ball
Below is a good video of this toy in action. Take a look!
Product Features
Below are some of the features for this product.
Quality and performance driven product for your pet

Tested for safety and health

Provide a better quality of living for your pet with Starmark

Fill with food or treats to keep your dog happily entertained

Made of soft, durable, puncture-resistant materials that stand up to tough chewers

Recommended for dogs over 40 pounds

Dishwasher-safe for easy cleanup

Dimensions: 5 x 5 x 3 inches (Large toy pictured)
Weight: 7 ounces
Price: $12.94
Note: The price for this product is subject to change without notice.
Brand: Starmark
Toy: Ball
Color: Blue
Product Rating: 3.6
Category: Chew Toys
For Dog Size: Above 40 lbs. (Large Ball Pictured)
Reviews: Read the Customer Reviews!

Frequently Asked Questions
Below are the most frequently asked questions about this product.
Where are the treats and toy made? Answer: In China.
Is this treat suitable for a 100 lb. Rottweiler? Answer: Definitely. I have a large pitbull that ate through one of those extreme kongs without hesitation but as longs as there is a treat in the end she was more fixated on the treat than destroying the toy itself. It took her a few hours to eat the treat ends as well.
The ball stinks. Is that normal. Is it harmful? Answer: Do you mean the strong chemical smell? Well, that smell is TYPICAL of many of the "soft, yet durable" types of dog chew toys. This is off-gassing of the chemicals in the product. I immediately wash the toy in soapy water and let it air dry, in the sun if possible. It helps to reduce the smell. I don't know if this makes it less harmful but I feel better about it.
Is there a money back guarantee if my dog destroys the ball? Answer: No.
Shop Starmark Everlasting Treat Ball
To shop for product, click on the image below where you will be taken to the Amazon ordering page. Once there, you can select any of the three sizes, small, medium and large. The large ball is pictured below. If you are interested in buying the treats that fit into this toy click here!
As an Amazon associate, I earn from qualified purchases.
Starmark Everlasting Treat Ball
Go back to Dog.Dog Luxury Beds home page.