What To Do When Puppies Start Teething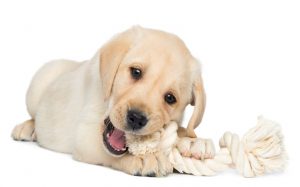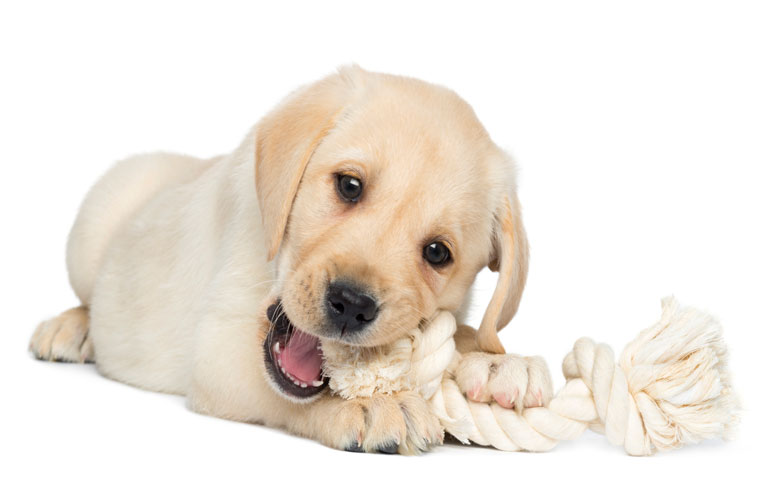 Many dog owners experience the happy feeling of bringing home their new puppy and trying to make the new visitor welcomed into the family and acclimated to his new surroundings. However, all puppies begin to start teething, which is bringing in their "milk teeth", between three to four weeks after birth. The Teething Process for Puppies has just started and will continue until their permanent teeth are in when they are about seven to eight months old. Some dog breeds the teething process may take a little longer.
This will vary among breeds of dogs. The "baby teeth" will consist of fourteen on the top and fourteen on the bottom.
Your concern is what can I do when this teething starts? Read below…
The following topics will be covered for further reading. Just click on a topic of interest and you will be taken directly to that section. Or, you can scroll down to view them all.
What To Look For During Teething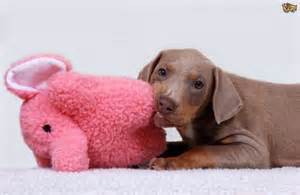 After about twelve weeks, the puppy begins to start losing his baby teeth and the permanent teeth start coming in. This is normal for all puppies. The permanent teeth will consist of 21 teeth on the top and bottom of his mouth. The whole process will take about five months to complete. The teething process will vary among various dog breeds.
During this time your pet will show signs of their gums being red, swollen, and irritated which is normal. If you should signs of something else, a call to the vet is in order.
As the permanent teeth begin to come in, your puppy is experiencing pain and needs to corral it and he does this by chewing on anything that is available in his sight. This is the time when you will need to be patient with your pet and provide him with plenty of chew-able toys in which he can safely chew on these items instead of your household furniture and other stuff you don't want him to chew on during the teething process.
The Teething Process For Puppies topics.
Go Back To Top of Page
Teething Videos
There are two videos on teething tips. The are both short and informative to help pet owners through the puppy teething process. Take a look!
Tip #1 Mouth Message Part 1

Tip #2 Mouth Message Part II

The Teething Process For Puppies index.
Top of Page
What Are Some Options For Relief
This will require the entire family to get on board with the program and there are some things that you can do to provide some relief for your puppy so he does not chew on stuff or things you don't want him to chew on.
Below are some suggestions:
Provide Chew-able Toys. One of the biggest and best options you can do is to provide your dog with plenty of chew-able toys. These toys will help give him the comfort he needs as he going through the teething stage. Look for toys that will hold up during this process like hard rubber ones and look for toys that can be filled with a dog biscuit or peanut butter. This will encourage your puppy to be focused on the toy instead of other items around the house and provide some relief as well.
Cold Chew-able Toys. These are toys that can be frozen. The cold helps in soothing his aching gums and teeth. Here is a suggestion; make a homemade frozen chew by twisting a wet rag into a stick-like shape and place it in the freezer. Give it to your puppy to play with. He will enjoy it and the cold brings him comfort and relief as well.
Ice Cubes. Some dogs have no problem in chewing ice cubes. If yours does not appear to be interested, try freezing chicken or beef broth and see if he chews on them. If this fails, try dropping a few ice cubes in his feeding bowl to help in his chewing needs.
Playtime and Obedience Training. This is a huge area where you can be in control. By providing him with plenty of playtime and training, he will be focused on these activities and not chewing on items that are off limits.
One thing to bear in mind, the teething process cannot be avoided if you brought a puppy into your home. If you should leave your puppy to fend on his own, he will be chewing up everything and anything to get relief from the teething process. In the meantime, you will have a messy house and have to replace some furniture or rugs. What you are trying to do here is to avoid this from happening by taking control from the very first day when you bring your puppy home.
The Teething Process For Puppies index.
Top of Page
Other Suggestions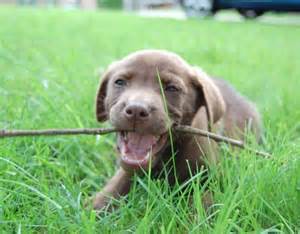 Here are some additional suggestions that you can do during the teething process:
Teach your Dog to "

Leave It

". Leave it is taught when playing tug with your pet with a preferred toy he likes. When you want the puppy to let go of the toy, say "

Leave It

", holding the toy with one hand, and producing a treat in the other hand. The puppy will release the toy for a treat, and reward him with a treat, saying, "

Good Leave It

". Overtime you will replace the treat with another favored toy, alternating between rewards of a favored toy or treat until he has grasped the command "Leave it."
It's a good idea to teach your puppy "

Leave It

" as soon as you bring him home. This prevents you from having to get into a tug of war over an object that you value.
Trade Up. If you should find your puppy chewing on something that is off limits, correct him with a "no." Then trade up by giving him a toy you know he likes. Once he starts chewing on the correct toy, praise him and give him a treat. Always try to find a way for your puppy to be "

right

" and deserving of some kind of praise at the end of every training session or correction. When a training session has not resulted in a breakthrough, end the session with a command the puppy knows well, so you can end the session with "good dog", praise and a treat.
Chilly Bone Chew Dog Toy. This particular toy is covered with a tough canvas outer and filled with a non-toxic gel that will freeze quickly in the freezer. What this toy does it numbs the sore gums and cools the tendency towards feverishness. This toy is great on hot summer days, helping to lower the dog's body temperature after exercise in the heat of the day.
Rope Toys. These toys are great for teething pets because they are inexpensive, easy to clean, last a long time, and are versatile. They are great for playing or teaching fetch, tug, or help in chewing activities. They also promote dental health by helping to clean teeth and strengthen gums.
Chilled Carrots. Try this; give your pet a cold carrot. Not only does it taste great, but it's rich in Omega 6 fatty acids and soothes the gums too. Limit the carrots to one a day as they are high in fiber and could cause some stomach upsets in your pet if to many are eaten.
Kong Chew Toys. There is a wonderful company that makes Kong toys and provides a variety of them for all levels of chewers. Some of these toys have hard rubber and you can place treats in them so your pet will spend hours trying to dig the treats out of them. It keeps their mind on the toy and not on stuff you don't want him to chew.
As you can see, you have some options to help your pet while they are going through the teething process. Just be sure to have sufficient chew-able toys available so he can chew on them and not on your items around the house.
The Teething Process For Puppies topics.
Top of Page
Avoid These Toys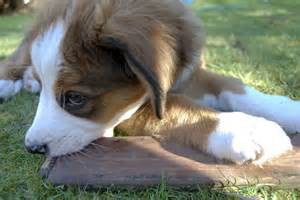 We shared earlier what toys you should buy or have when your pet is going through the teething phase; we now want to provide you with the toys you should avoid.
First, do not confuse your pet by using toys that resemble any object that you don't want him to destroy, like rubber tennis shoes with squeakers, imitation remote controls or cell phones etc. This will confuse him.
Second, remember, your objective is to have consistency in all of his training—the teething phase will be over soon, but his good habits that you teach him will last for his lifetime. The choice is yours.
Finally, keep your dog occupied during the teething process with toys that he likes and stick with them until the teething process is over. After that, you can try introducing him with new toys to play with.
Some dogs will go through lots of chew-able toys because of their aggressive chewing. If your dog should happen to be an aggressive chewer don't panic, keep plenty of chew-able toys around for him to play with. He will let you know which ones he likes and the ones he doesn't. Keep plenty of the ones he likes until all his permanent teeth are in.
The Teething Process For Puppies topics.
Top of Page
Conclusion
Now you know that you are not the only pet parent that has to go through the teething experience with your pet. You are in lots of company. All pet parents before you have also suffered through the teething experience. Using careful planning, exercise and dog training, you can help reduce the effects of your dog's chewing on off-limit items until his permanent teeth are all in.
Go back to The Teething Process For Puppies topics.
Go Back To Top of Page
Shop Teething Resources
Below are some helps you can use during your puppies teething stage.
The Teething Process For Puppies topics.
Go back to Dog.Dog Luxury Beds home page.