A Tag That Doesn't Make Noise While Walking Your Dog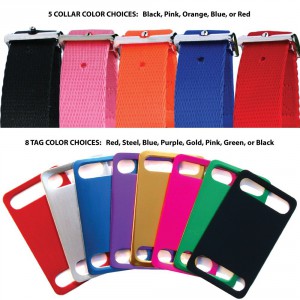 Are you concerned about your dog getting lost? Does your dog tend to wander off when he is outside? How about trying the No Noise Collar Tags which has information about your dog like name, address and phone number. With this collar tag you can have some peace knowing that if your dog should wander off, he has some identification on who he belongs too. A nice feature of these tags is that they do not make any noise when your dog is walking, running or jumping which is cool.
These particular custom tags come in eight colors and you can choose from five collar colors as well. The collars come in four sizes; collar lengths 6-8 inches are 3/8-inch wide, 10-12 inches are 5/8-inch wide, 14-16 inches are 3/4-inch wide, and 18-24 inches are 1-inch wide.
Now you can have the tag and collar all at the same time as the collar will fit the tag and you will not have to purchase the collar separately as it comes shipped to you in one nice package.
You can personalize the tag with up to four lines of engraved text.
Product Description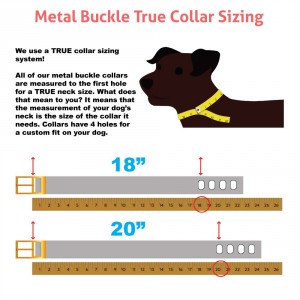 Below is a description of these collar tags.
Durable
Silent
Easy to attach
The tag will not slide unto an adjustable collar with plastic snaps
Four lines of personalized engraved text
Neck measurements are fitted to the first hole of the collar and each collar has four holes
Collar made of tough nylon
Product Specifications
Below are the specifications for this product.
Manufacture: GoTags
Ships By: Dog Collars
Price: $16.95 (collar & tag)
Note: The price of this product is subject to change without notice.
ASIN Number: B0075RW5SG
Size Information: 6, 8, 10, 12, 14, 16, 18, 20, 22, or 24 inches
Collar Colors: Red, Blue, Pink, Black, Orange
Tag Colors: Red, Blue, Purple, Gold, Pink, Green, Black or Stainless Steel
Collar Widths: 3/8-inch, 5/8-inch, 3/4-inch and 1-inch
Engraved Text: Up to four lines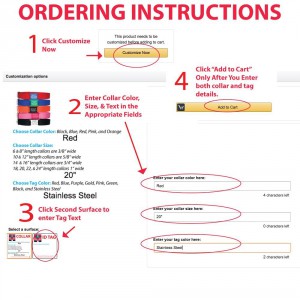 Ordering Instructions
Before you can actually checkout, you must provide some customization.
First, you must select the collar size and color
Second, you must select the tag color
Third, you personalize the tag with text with up to four lines
Customer Reviews & Rating
There are over 250 customers who have purchased the collar and tag combination and they have given this product an average score of 4.5 out of 5, which is excellent.
To read all of the 250 plus customer reviews
just click on the link.
Frequently Asked Questions
Below are some of the most frequently asked questions about this product.
When do you ask me what color we want and what info to put on the collar? Answer: Follow the ordering instructions on the order page/photo to tell us the info in the Gift Message Box at Checkout.

Nylon 4 Collar Sizes

Both of my dogs necks measure 13". 15" with the recommended additional 2", so they are between sizes. What collar size should I order? Answer: I would order the next size up. Your dog's neck could get wider as it gets older.

Is this collar adjustable at all? Answer: Yes it is. It comes with four holes less than an inch apart from each other.
Does the collar have a ring to attach the rabies tag? Answer: Yes.
On the stainless steel color tag, is it made of Stainless Steel or just metal? Answer: Stainless Steel.
After customizing, I hit "add to cart" but the page tells me it can't be added to my cart. How do you order this? Answer: You must order this product from a computer (pc or laptop), the customization function is not available for mobile devices. Seller: DogCollars
Can the tag be removed and put on another collar should that be necessary? Answer: Yes, it just slides off the collar if needed.
I have a Chihuahua so probably will need the smallest size. Will the lettering on the tag be large enough to read? Answer: Yes, I have a 10lb Yorker and I got him the smallest one and you can read it clearly.
Is the collar a two-ply nylon collar? Answer: Yes.
Is the buckle and ring on the collar made of stainless steel? Answer: Yes. Both are stainless steel.
Shop No Noise Collar Tags
You can shop for the No Noise Collar Tags by clicking on the image below. You will be taken directly to the Amazon ordering page for the product. Once there, to begin, click on the "Customize Now" button. Follow all of the on-screen instructions. After completing the customized information, the button changes to "Add to Cart", where you actually purchase the product.
As an Amazon associate, I earn from qualified purchases.

Custom Engraved Slide-on Pet Id Tag Comes with a Tough Nylon Dog Collar. Available in Assorted Colors and Sizes.
Go back to Dog.Dog Luxury Beds home page.