Toy Name: Nylabone Dura Chew Wishbone
Product Description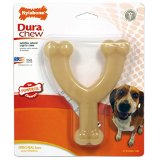 Most dog owners know that dogs like to chew. If left alone, they would chew up everything the house. Dogs chew because they need to relieve pain while teething and it's just their nature. You just need to control it. The Nylabone DuraChew Wishbone is just the toy to the rescue.
It's made with tough, durable nylon, the Nylabone DuraChew Wishbone was designed for powerful chewers. It provides long-lasting enjoyment, satisfies the natural urge to chew, and encourages positive chewing habits. Plus, the bristles raised during chewing promotes clean teeth and helps to control plaque and tartar buildup which makes for good dental hygiene for your pet.
Other positive results from this dog chew is helping dogs that suffer from separation anxiety, destructive chewing behaviors and poor dental health.
Please note: Different dogs have different chewing styles and strengths, even within the same breed, so be sure to choose the correct chew size and type for your dog.
Product Features
Below are some of the features for this product:
The DuraChew product is made to be long lasting for powerful chewers
Bristles raised during chewing help clean teeth and control plaque and tartar

Provides long-lasting entertainment

Helps dogs that suffer with separation anxiety
Provides a solution for destructive chewing behavior

Helps fight boredom in pets

Satisfies your dog's natural urge to chew

Weight: 4 ounces
Dimensions: 4.6 x 0.9 x 5.8 inches
Product made in the USA
List Price: $8.99
Last Price: $5.49
Brand: Nylabone
Toy: DuraChew Wishbone
Color: Natural
Product Rating: 4.4 (By over 1,930 customers)
Category: Chew Toys
For Dog Size: Medium Size Dogs
Reviews: Read the Customer Reviews!
To shop for product, click on the image below.
As an Amazon associate, I earn from qualified purchases.
Nylabone DuraChew Wishbone Dog Chew
Back to Dog.Dog Luxury Beds home page.
Nylabone Dura Chew Wishbone
Discourages Destructive Chewing
9.5/10
Helps Puppies During The Teething Period
9.5/10
Pros
Long-lasting chew toy challenges even the most aggressive chewers and discourages destructive chewing.
Bristles raised during chewing this dog chew toy help clean teeth and control plaque and tartar.
Tough, durable nylon bone keeps powerful chewers busy.
Helps clean teeth and freshen breath.
Made In USA.
Cons
Product must not be eaten or ingested.
This bone is for dogs up to 35 pounds.
Requires supervision.
Inspect toy before giving it to your dog.