Designer Collars For Dogs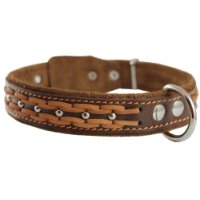 Do you know the proper size collar you need to get for your dog? It is very important that the correct size collar is placed on your pet. As your pet ages, they may gain some weight. Therefore, a bigger size collar may be needed. As a pet owner you will need to keep a sharp eye on your dog to ensure that the collar he's wearing will not choke him.
To determine the correct size you can also measure your dogs neck. As they age you will need to do this periodically to determine if the correct collar is being worn. If you do not have a cloth measuring tape (do not use metal), take a piece of string and put it around the neck of the dog where the collar will be warn. Take the piece of string and place it on a yard stick to note the length of the string. This will be the size collar you need to buy for your pet.
You should be able to purchase a designer collar that best fits your dog. They come in different colors and types so finding one should be easy to spot and use on your dog.
Below is a video to show you how and where to place the string or tape measure to measure the correct collar size for your dog.
Dog Collar Size Chart
Below is a chart for the proper collar size for your dog:
XS/Small – Neck: 7-11″ Weight: 2-10 lbs.
Medium – Neck: 11-15″ Weight: 10-40 lbs.
Large – Neck: 15-22″ Weight: 40-100 lbs.
X-Large – Neck: 19-29″ Weight: 100-200 lbs.
Collars are designed for placing leashes on dogs. Be sure to know what your local ordinances are that govern pets especially when dogs do their business and taking them for walks.
As an Amazon associate, I earn from qualified purchases.
Go to my dog designer store where you will find some great dog designer collars besides those above.
Go back to Dog.Dog Luxury Beds home page.