Toy Name: Goughnuts Indestructible Dog Toy Green
Product Description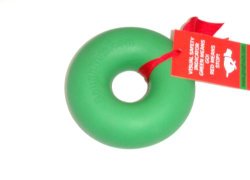 Most dog owners are very aware how your dogs just love to chew on something or anything in your house. Some toys just last a few minutes while some might last a couple of days. Now, the Goughnuts Indestructible Dog Toy just might be able to stand up to the chewing test. Some dogs are stronger or aggressive chewers than others. Here is a toy that will give him a challenge.
The original GoughNuts toy was designed to address the simple but serious issue of safety. The GoughNuts chew toys are designed knowing that safety and fun go hand in hand. Each GoughNuts pet toy has included in it's design the GoughNuts patented safety indicator where Green means "GoughNuts" and Red means "Stop".
This toy floats in water so you can take it with you to the beach and let him have fun. It is also good for playing games of fetch or toss and watch him chase after it. Your dog can be left alone chewing with this toy and especially use this toy if your puppy is teething.
The company guarantees to replace the toy if your dog exposes the "red" on the inside, this is a huge win for you. Let your puppy or adult dog Goughnuts with this awesome toy!
Product Features
Below are some of the features of this product.
A virtually Indestructible (and guaranteed) chew toy! GoughNuts toys have been designed by mechanical and polymer engineers. If your pet can chew through the outer layer to expose the inner red layer, GoughNuts will replace your toy.
Best for moderate chewers, 40 lbs and up, or strong chewers 10 to 40 lbs.

Made in the USA, indestructible, guaranteed

3500psi

this floats at water level

aggresive chewers

Dimensions: 4.5 x 1.8 x 4.5 inches
Weight: 6.4 ounces
Price: $21.31
Note: The price of this toy is subject to change without notice.
Brand: Goughnuts
Toy: Chewing
Color: Green
Product Rating: 4.1
Category: Chew Toys
For Dog Size: Moderate Chewers 40 lbs. and up. Aggressive Chewers 10 to 40 lbs.
Reviews: Read the Customer Reviews!
Frequently Asked Questions
Below are some of the most frequently asked questions about this toy.
Does this toy taste strong like rubber? Answer: It's a milder plastic flavor than the KONG, though still appetizing in its own right. Overall, a much more pleasant and enjoyable taste, as it is a high-grade rubber.
I have a dog that likes to chew. Is this a good toy for her or not? Answer: It absolutely is!! I have a McNabb Border Collie and when he is focused on chewing he's like four-legged acid. He could not chew up and destroy the goughnut. In fact, 3 years later it still looks brand new!
I have a 60 lb. Lab that need a good toy. Do you recommend this one? Answer: I'd certainly say YES. My pit was a little wary at first, it didn't feel like any of the other normal toys he plays with but he took a definite liking to the goughnut and after over a month, it's the longest lasting toy we own!
Is this toy suitable for a German Shepherd? Answer: Yes.
Will it float? Answer: Yes, it floats!
Does this toy squeak? Answer: No.
Does this toy smell like the KONG toys do? Answer: No.
How must does it cost to replace if my dog chews to the red layer? Answer: If your dog chews through to the red inner core, you will have to mail the damaged goughnut back to the company, enclose a check for shipping costs and they will send you another one at no charge. You can go to goughnuts.com for all the information about goughnuts at: (

215.657.0636).
To shop for product, click on the image below. You will be taken to Amazon where you can place the order.
As an Amazon associate, I earn from qualified purchases.
Goughnuts Indestructible Dog Toy
Go back to Dog.Dog Luxury Beds home page.