Toy Name: KONG Puppy KONG Toy Small
Product Description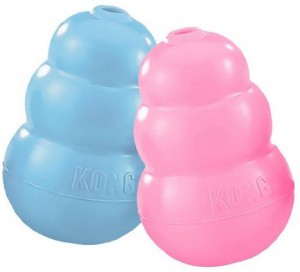 You have just brought home your new puppy. Congregations! Now, you need to take care of his chewing especially when they start teething. You will need to look for a toy that will supply this need and the KONG Puppy KONG Toy Small is just the one to fill the bill. This toy is for all puppies. Be sure to select the correct size for your dog's breed.
KONG Puppy is made with our exclusive teething rubber formula designed for puppies up to nine months. Veterinarians and trainers recommend stuffing the KONG Puppy with healthy treats to aid in crate training, decreasing separation anxiety, promoting proper chewing behavior and deterring misbehavior for happy, healthy puppies. Our super-bouncy, pink or blue natural rubber compound is unequaled for dogs who like to chew.
The bonding of pet with owner is critical and this toy will help with this important behavior. Also, you can have some interactive time with your pet using this toy in games of fetch.
Use this toy to assist you with his crate training, see below.
In this critical time, you can help relax your dog with a treat-stuffed KONG to create a positive association with the crate.
Start a dog's crate training by stuffing a KONG toy with a favorite treat.
Let the dog see and smell the stuffed toy, then place the KONG in the back of the crate leaving the door open.
As the dog chews on the KONG inside the crate, they begin to feel more comfortable and create a positive association with the crate.
Repeat this until their dog is happy to settle in the crate on their own.
The puppy KONG comes in the following sizes and colors:
Extra Small – Pink (2.2 x 1.4 x 1.4 inches – for puppies up to 5 lbs.)
Small – Blue or Pink (3 x 1.8 x 1.8 inches – for puppies between 5-20 lbs.)
Medium – Blue or Pink (3.4 x 2.2 x 2.2 inches – for puppies between 20-35 lbs.)
Large – Blue (4 x 2.8 x 2.8 inches – for puppies between 35-65 lbs.)
This toy is good for puppies up to nine months. Graduate to the larger size KONG toys.
Puppies & Teething
Like humans, dogs have two sets of teeth in their lives. The 28 baby teeth erupt through the gums between the third and sixth weeks of age. Puppies don't have to grind much food, so they do not have molars.
Puppy teeth begin to shed and be replaced by permanent adult teeth at about four to five months of age. The teething period can be frustrating and painful; the puppy clamps his mouth on everything he can reach, from body parts to expensive sneakers, in an attempt to relieve the discomfort.
Our puppy rubber toys are gentle for growing teeth and jaws and helps to promote entry of growing teeth, while establishing healthy chewing habits.
Product Features
Below are the features for this product.
Made with exclusive teething rubber formula

Recommended worldwide by Veterinarians, Trainers and behavior experts

Perfect for stuffing treats, snacks or kibble

Aids in crate training

Decreases separation anxiety

Promotes proper chewing behavior and deters misbehavior

Unpredictable bounce for games of fetch

Made in the USA

Weight: About 1 ounce
Price: $4.77
Note: The price for this toy is subject to change without notice.
Brand: KONG
Toy: Puppy KONG Treat Dispensing Toy
Color: Pink
Product Rating: 4.2
Category: Chew Toys
For Dog Size: Small Puppies
Reviews: Read the Customer Reviews!
Frequently Asked Questions
Below are some of the most frequently asked questions about this toy.
Where is the toy made? Answer: USA.
Shop KONG Puppy KONG Toy Small
To shop for product, click on the "Buy Now" button below where you will be taken to the Amazon ordering page. Once there, you can select from XSmall, Small, Medium, and Large puppy toys. Small blue toy pictured.
As an Amazon associate, I earn from qualified purchases.
Go back to Dog.Dog Luxury Beds home page.
KONG Puppy KONG Toy
$4.77
Unpredictable Bounce for Games of Fetch
9.0/10
Great Toy For Teething Puppies
9.5/10
Helps Decrease Separation Anxiety
9.5/10
Promotes Proper Chewing Behavior and Deters Misbehavior
9.5/10
Pros
Perfect for stuffing with puppies favorite treat or kibble.
Soft puppy KONG rubber formula is customized for puppy teeth and gums.
Recommended by veterinarians and trainers worldwide.
Promotes proper chewing behavior and deters misbehavior.
Made In USA
Cons
Cannot choose color (pink or blue) at time of purchase.
Toy made for small puppies.
Toy is the size of a mouse and can be easily swallowed with larger puppies.