Ease The Teething Process With A Tire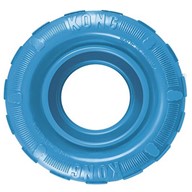 KONG puppy tire toys are especially made for puppies who are going through the teething process. All dog owners know that when a dog is going through the teething process they chew at almost anything to remove the pain. Nothing is safe in the house from their chewing during the teething period. Now, give them a KONG tire to chew on and fill it with some tasty treats. This will keep them busy and occupied for hours and keep your items safe.
This tire is made of natural teething rubber to help dogs get through the period of teething. It also helps to promote healthy teeth and gums too. The toy uses KONG's exclusive puppy rubber formula specifically designed to ease teething gums.
This particular dog tire toy also has room for you to place treats in it so your dog will not only have some relief of teething but also a challenge of getting the treats out to enjoy.
This toy is also great for getting to know your pet better with interaction. It is designed well for games of fetch and chewing, which is a dog's favorite pastime.
This KONG tire toy is made in the USA.
Pricing
The cost of this KONG toy will vary from time to time due to any discounts being offered at the time of purchase.
Small: $8.45
Large: $10.45
Note: The price for this toy is subject to change without notice.
Dimensions
Small:2" x 3.5" x 3.5" Weighs: 3 ounces
Large:5" x 4.5" x 4.5" weighs: 6.6 ounces
Note: Select the size KONG tire that is best for your dog.
Consumer Feedback
This product is rated above average, 4.3 stars out of 5, because of the following reasons.
She has played with it daily for the past two months and it still looks rather new. Many other chews that we have given her have been destroyed fairly easy. It can hold treats, but she loves it most as a chew toy.
This is the only brand of dog chew toy my puppy lab/cocker mix cannot destroy. We can leave it with him all day and it still looks nearly as good as when it arrived!
We have 4-months English Bulldog puppy. He loves this toy, especially when I put inside some treats.
My Rottweiler puppy loves this especially when I hide cookies inside! Great quality!
My Rottie puppy loves this. I put a biscuit in the tire and it keeps him busy for a few minutes.
I have a German Shepherd puppy who has been able to destroy every toy so far except for this one. He loves it too. Plays with it for hours and it's still like new.
If your dog loves to chase a wheel, then he'll love this, plus Kong products are long lasting for dogs that are chewers.
It's a Kong toy, indestructible, you can fill it with peanut butter or Kong filler, the dogs will work with this for hours until the filler is all gone.
Shop Now
You can order this toy by clicking on the text link below. You will be taken to the Amazon product ordering page where you can place the order.
Note: The color of the toy is random when shipped. Either you will get pink or blue. You cannot specify the color with the order.
As an Amazon associate, I earn from qualified purchases.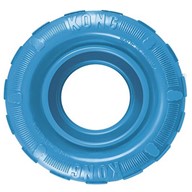 KONG Puppy Tire Dog Toy
$8.45 (Small) & $10.45 (Large)
Helps Promote Healthy Teeth & Gums
9.0/10
Toy Can Be Used For Playing Games of Fetch
9.0/10
Helps Puppies During The Teething Period
9.0/10
Toy Can Be Stuffed With Pets Favorite Treats or Kibble
9.0/10
Pros
The stuff able inner track creates a mental challenge for puppies while teaching correct chewing habits.
Treats can be added into KONG tire hole for added enticement and enjoyment.
This toy uses Kong's exclusive puppy rubber formula specifically designed to ease teething gums.
Tire designed for games of fetch and chewing.
Made In USA
Cons
Price
Toy for medium to large size puppies.
This toy can be easily destroyed by aggressive chewers.