Toy Name: KONG Rubber Ball Extreme 
Product Description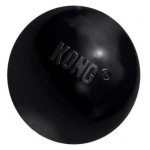 This is a great interactive toy for you to play fetch with your dog. It will also keep him amused for hours when he must be left alone. If your dog should suffer with separation anxiety, this toy should help him overcome this behavior.
Keeping your dog stimulated for hours is great for him and his health. This is also great for dog owners too. Keep plenty of toys on hand for your dog to play with. This is just one of many toys you can use for this purpose.
This toy is great for both indoor and outdoor use. Once you give this toy for him to play with, you just might need to have one on hand.
Note: This toy will not float in water so, be careful around water areas such as the beach or pools.
Product Features
The features of this product are mentioned below:
Extreme bounce
Puncture-resistant
Made of durable rubber
Made in the USA
Measures 3 inches
Ideal for medium and large breed dogs
Price: $7.79
Note: The price may vary based on any discounts being offered at the time of purchase. The price for this toy is subject to change without notice.
Brand: KONG
Toy: Rubber Ball
Color: Black
Product Rating: 4.5
Category: Ball, Interactive Toys
For Dog Size: Medium to Large (Ball comes in smaller size for small dogs)
Reviews: Read the Customer Reviews!
To shop for product, click on the image below. You will be taken to the Amazon product ordering page.
As an Amazon associate, I earn from qualified purchases.
Go back to Dog.Dog Luxury Beds home page.
KONG Rubber Ball Extreme
$7.79
Toy Is Ideal For Medium To Large Dog Breeds
9.0/10
Great For Playing Games Of Fetch
9.0/10
Extreme Bounce For Added Fun
9.5/10
Puncture Resistant
9.0/10
Pros
Extreme bounce for added fun.
Great for playing games of fetch.
Puncture resistant.
Toughest durable formula for safety.
Made In USA
Cons
Price
Toy for medium to large dog breeds.
Toy has a hole in middle of toy and can be chewed into small pieces and swallowed with strong & powerful chewers.