Spill-Proof Dog Mat For Pets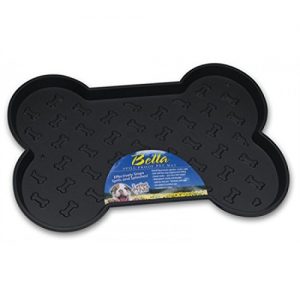 Pet parents struggle with their dogs moving the water and feeding bowls when they use them and make a huge mess on the floor after they are finished. You may be asking yourself is there anything I can do to stop this from happening? Well, the answer is yes. You just may want to consider using the Loving Pets Bella Spill-Proof Pet Mat for Dogs to prevent these moving bowl accidents. So, if you have a sloppy dog, this just might be the solution to your problems.
This mat is made out of hard plastic and has a raised rim that is about 1-inch high all around. This lip helps prevent splashes and retains spills instead of going on the floor.
The large mat has enough room to fit two 8-inch wide bowls one for water and one for food. The mat can be used for both indoor and outdoor use. The small mat holds two bowls up to 6-inches wide.
The bottom of the mat has skid feet to stop slipping and sliding when your pet is eating or drinking. It cleans very easily with water and is dishwasher safe.
The mat is waterproof, sturdy and durable. It is safe for pets as its non-toxic and BPA free.
The mat comes in two sizes large and small and two colors tan and black.
Product Pricing
The cost of this mat will change from time to time due to any discounts being offered at the time of purchase and the popularity of the product on Amazon.
Black-Small: $4.59
Black-Large: $13.99
Tan-Small: $7.99
Tan-Large: $11.38
Note: The price of this product is subject to change without notice.
Dimensions
Small: 2" x 13.1" x 1" deep Weight: 10.2 ounces
Large:4" x 17.4" x 1.2" deep Weight: 1.2 lbs.
Customer Feedback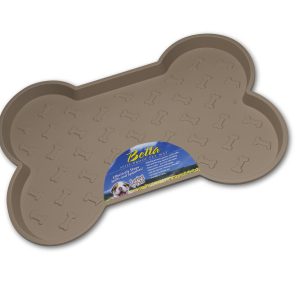 This product is rated above average, 4.5 stars out of 5, by consumers for the following reasons.
Nice large mat to stop water spills. Two boxers drink from their bowl on this mat regularly. Large enough where most dripped spills stay on mat instead of hardwood floors. The mat does need to be wiped down and cleaned periodically.
This really works! Nice to have a dry floor next to our dogs water bowl!
Great quality! Super cute. I like that it is hard plastic because you can pick it up without spilling the mess that's in it, unlike soft mats. Ot has a lip that keeps everything inside. I will buy again if I need to.
LOVE LOVE LOVE this product! It is the perfect size and depth. My dog is a messy eater and this product keeps all his fallen kibbles and splashes of water contained. I don't have to worry about walking by my dogs bowls and stepping in crumbs anymore. I highly recommend this product.
This was an important purchase for our English Bulldog, not entirely slobbery, but enough
that having this tray protects our hardwood floors at meal times.
Reasonable price, great delivery, this was a must have for our new pup!
Great simple mat for making food cleanup easy! Fits my dog's large food bowls just fine.
Hard plastic, heavy duty. Works well for three bowls. I put two medium size stainless steel food bowls in the bone cut outs and a large stainless steel water bowl in the middle. Fits perfectly with room to spare and my medium size and large dog can both eat at the same time. It is NOT flexible rubber – it's hard plastic. Easy to clean!!
This is an awesome mat. I have others that are much more flexible and don't have a high outside lip, and those others are pretty useless compared to this. It's hard, durable plastic with a high lip. I bought it because I have carpet where my dog's water and food sit. This definitely catches any water spills and contains any stray food. This is a great product.
Shop Now
You can buy this mat now by clicking on the text link below. You will be taken directly to the Amazon product ordering to place your order.
As an Amazon associate, I earn from qualified purchases.