Easy To See Your Dog Walking At Night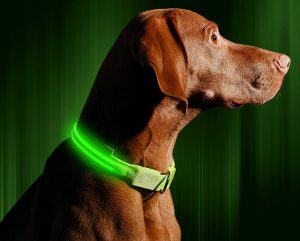 Dogs like to explore and play outdoors and if this happens to be at night, you may have some safety concerns. As a pet owner, if you let your dog out at night or take him for nighttime walks, being seen by motorists is a must. The Lighted LED Dog Safety Collars will allow your dog to be easily seen at dusk or at night while walking or playing outside.
If you are concerned about your dog's safety when he's out at night, then this collar is for you. The light that the collar emits can be seen for up to 500 – 1,000 feet away which makes visibility of seeing your dog much better for all concerned.
You have four settings on the collar to select from: on (which is a steady light), rapid flash, slow flash, and off.
These collars in general work on one charge for up to 5 hours. They can be recharged using the USB cable that comes with the collar under 2 hours. The collar is also eco-friendly because it does not use any batteries to be re-charged which means you have less waste and no need to purchase batteries.
Most of these collars are not waterproof, if your pet should go under water it might destroy the LED lighted collar.
When you go outside at night you can be sure using this collar all cars will be able to see your pet.
These collars do come in several colors so if you should own more than one pet, you can put different color collars on them when going out at night.
Shop LED Lighted Collars
You can shop for the various brands of LED lighted dog collars below. Click on the image and you will be taken to the Amazon product ordering page where you can select the color of the collar you want with the order.
Note: The collar should be comfortable. You should be able to place two fingers between the collar and your dog's neck. Puppies grow fast and their collars need to be checked regularly and replaced when required.
As an Amazon associate, I earn from qualified purchases.
Go back to Dog.Dog Luxury Beds home page.
GoDoggie Glow LED Dog Safety Collar
$20.99
USB Rechargeable Lithium-ION Battery
9.0/10
Optimal Visability
9.0/10
Innovative Design & Premium Quality
9.0/10
Made of 100% Nylon Webbing with High-Tensile Box-Crossed Stitching
9.0/10
Pros
The latest Ultra-Bright LED's throughout the collar & leash provide optimal visibility for you and your dog at dawn, dusk, at night and in low light conditions.
Optimal visibility improves safety because you can been seen by other dog walkers, joggers, runners, cyclists, motorists, etc.
The LED Leash has a very comfortable soft-grip foam padded handle to avoid burns & to provide optimal control and it also includes a super-strong rotating alloy clasp to avoid twisting.
Both the collar and leash have enclosed battery cases for added protection and a better look, high-tensile box-stitching for maximum strength and dog security.
It is water-repellent & mildew-resistant, it has rust-proof components, and it is lightweight, strong & durable.
Cons
Price
Available in small and medium collars.
May not hold the charge very long.