ID Tags Keeps Track Of Lost Dogs
ID Tags Identifies Ownership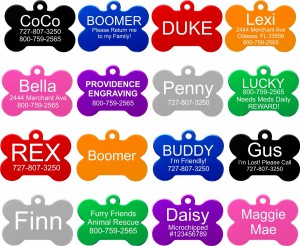 Does your pet tend to wander off? Are you concerned if your dog should get lost and not return home? Then, you should consider purchasing a pet ID tag. Pet ID tags are just the ticket for identifying who he/she is by their name, address and phone number on the tag for easy identification. You will never have to worry about your pet wandering off somewhere not knowing where he or she is.
Pet tags come in different shapes, sizes and colors. You should be able to find one that you like that will identify your pet ownership.
The following topics will be covered in this article:
Product Features
A detailed list of product features are provided so you can compare them with other similar products.
Made from premium quality anodized aluminum
Custom laser engraving included with your order
Select from seven different shapes
Select from eight different colors
No exposed edges after cutting
4 lines of text, each with up to 18 characters per line
Back to Pet ID Tag topics.
Product Colors & Shapes
Below is a list of the colors and shapes for these tags.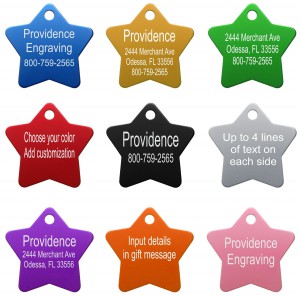 Colors
Blue, Black, Gold, Green, Pink, Purple, Red & Silver
Shapes
Bone, Cat Face, Heart, Hydrant, Paw, Round (small or large), or Star
Back to Pet ID Tag topics.
Amazon Product Ratings
This item is an Amazon best seller in the top 100 pet supplies with over 600 customers who purchased this product and has rated this item with an average score of 4.6 stars out of 5, which is excellent.
Back to Pet ID Tag topics.
Product Pricing
The pricing for this product will vary from time to time depending upon the discount being offered at the time of purchase.
The price shown below covers all colors and shapes for this product
Note: The price for this product is subject to change without notice.
Back to Pet ID Tag topics.
Instructions On How To Add Engraving Text
There were many customers who liked this tag but had difficulty in trying to find the place where area to add the text for the engraving. Below are the instructions on how to add this information when placing your order through Amazon:
Display the item in Amazon by entering the following code in the search box: B00BU44VSM or type "Pet ID Tags" and press Enter (item is usually in the first or second position on display page), or click on the product image in the shop section below.
Click on "Add to Cart" button.
Click on "Proceed to Checkout" button.
Select "A Shipping Address" from the list of choices and click on the "Continue" button.
Select "A Payment Method" from the list and click on the "Continue" button.
You are now on "Review Your Order" page and look for your item at the bottom left of the page. Click on "Add Gift Options" link in blue.
In the message box enter your engraving information as follows:

A. Shape & Color of tag name being ordered from the list above
B. Enter the engraving text in the following format:

(1) Dog Name – 18 Characters maximum 1 line
(2) Street Address – 18 Characters maximum 1 line
(3) City/State/Zip – 18 Characters maximum 1 line
(4) Telephone Number – 18 characters maximum 1 line
Click on "Save Gift Options" button.
Click on "Place Your Order" button.
Follow any additional on screen options to complete your order.
You have successfully placed your order with the engraving information.
Note: Spaces count as a character. You may have to abbreviate to fit long city names and street addresses.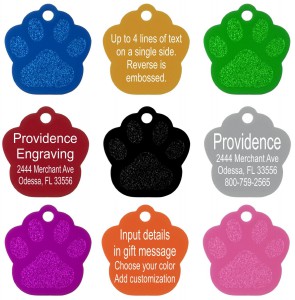 Back to Pet ID Tag topics.
What Others Are Saying About This Product
We just don't want you to take our word for this product. We have provided five of the reviews from the review section in Amazon. A link will be provided so you can read all of the reviews at the end of the reviews below.
By Nica, September 3, 2013 – Impressed!
A couple of weeks ago I spent an afternoon (much longer than i wanted) reading a bunch of reviews. I didn't know which kind of tag to buy. So many different types and even more opinions. I decided to go the cheap route and I am so glad I did. We received the tags today and they look awesome! I am pleasantly surprised. I honestly expected something to go wrong. The directions ask that we put the info to be put on the tag in the gift message space. I did that. I took my time and had it spaced out so they'd be able to see how I wanted it. At checkout I noticed Amazon removed all my extra spaces. I figured the engravers see enough orders come through that they should be able to figure it out. They came EXACTLY how I wanted. I'm very impressed. Also, in the package also included a note regarding laser printing vs rotary engraving. (That was another hot topic within the reviews). They say laser printing will not rub or wear and encouraged the consumers to search the Internet for more info. I respect how they confronted the issue. In the future, I will definitely buy these again. The price is right and the tags are perfect!
By David, December 11, 2014 – Easy/Accurate Process
Quick Easy Will definitely buy again. My Penny is chewing on it because her loose collar allows her ample reach. Once she is larger and can't reach it, we will get another one. A lot cheaper to replace than the laser engraved tags at Petsmart or Walmart. Those would hurt to replace. Well done!
By Liz, December 9, 2014 – Prompt Delivery, Great Tag
I was nervous buying a personalized item like this off Amazon. What if it was printed incorrectly? What if I messed up the form? Lots of What-Ifs. You get the idea. But the price was so right compared to what the pet stores around here charge. I have three pups and just changed my phone number – things were about to get expensive, fast. I ordered the small round (pink) for my Chi to see if it worked out. The size and color were great. Perfect for a 6-lb girly dog. I really liked the engraving (laser engraving) on the tag. It looks fantastic. I'll be ordering two more for the other dogs.
By Ileana, December 9, 2014 – Love Them!
Excellent service! I had a question and they responded quickly! My order came in a day before estimated arrival. The dog tags look great and just as described! A+
By Diana M, December 8, 2014 – Great And Affordable
Got it in the mail today which happens to be my dog's birthday! Looks absolutely flawless; I had read in the reviews that some of the words on the dog tag had rubbed off to some of the buyers. I scratched at the tag as soon as I got it seems sturdy and I don't think the words are going to come off any time soon. The price for this was so affordable I am so, so glad I bought this tag.
Product Reviews
If you are interested in reading over 2,000+ customer reviews
 for this product just click on the link.
These customers gave this product an average rating of 4.6, which is excellent.
Back to Pet ID Tag topics.
Why Should I Consider Buying This Product?
You should consider buying this product for some of the reasons listed below.
In case your dog should ever get lost
It's an ordinance requirement in the place where you live
It will give you a peace of mind if your dog has an identification tag
You travel a lot and your pet travels with you
These reasons alone are sufficient to buy this identification tag for your pet. Remember, you have seven shapes and eight colors to choose from.
Back to Pet ID Tag topics.
Conclusion
As a dog owner, it is your responsibility to ensure the safety of your pet. He/she does not know all of the rules where they are roaming. Having a dog tag to identify them is a great comfort just in case your pet should wander off and be missing. This will help in the returning of your dog back to you sooner.
Back to Pet ID Tag topics.
Shopping Pet ID Tags
Below is one image of the dog tags. When you click on it, you will be taken to Amazon where you can shop for the shape and color you want. Be sure to follow the instructions above in placing the text for the engraver.
As an Amazon associate, I earn from qualified purchases.


Go back to the Dog.Dog Luxury Beds home page.
Back to Pet ID Tag topics.