Environment Friendly Dog Ear Cleaner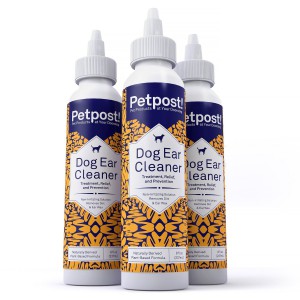 Have you noticed your dog scratching his ears? Do you smell an odor coming out of his ears? Does your dog have regular ear infections and ear wax buildup? If you answered yes, how about trying the Petpost Dog Ear Cleaner. This ear cleaner is different than most because it uses a plant-based solution which is free from alcohol to remove excess dirt, ear wax buildup, debris and ear mites. This formula was created by a group of veterinarians that wanted to have an ear cleaner that helps with the soreness and the environment.
This stuff really works and is effective in cleaning your dog's ears in a healthy way.
The product is made from recyclable packaging which is good and safe for the environment. It comes with an easy to use application and you can say goodbye to measuring capfuls, spilled solution, and unhappy dogs.
Product Description
This special formula was developed for all pups that are experiencing:
Itching and scratching at their sore ears. • Have disgusting wax and dirt clogging their ear canals. • Have a nasty odor coming from their ears. • Have an ear infection, ear mites, or a yeast infection.
The trouble with most ear cleaners is that they only clean your dog's ears, but don't treat current infections, prevent future infections, or relieve itchiness.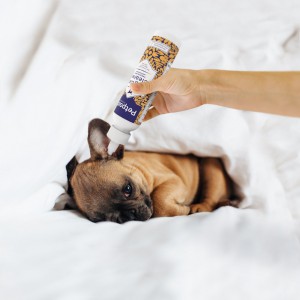 The Petpost Dog Ear Cleaner has a special, extra-powerful solution that is plant-based, and contains the highest quality extracts from coconut and palm that:
Gently Removes Ear Wax, Dirt, and Debris
Removes Bacteria The Causes Ear Infections, Yeast Infections, and Ear Mites
Soothes Symptoms and Prevents Future Infections with Regular Use
Product Specifications
Below are some of the specifications about this product.
Manufacture: Petpost
Model Number: PP01
ASIN Number: B0157XUYDM
Shipping Weight: 11.2 ounces
Net Weight: 8 ounces
Price: $18.97
Note: The price for this product is subject to change without notice.
Alcohol Free: Yes
Ingredients: Naturally Derived Coconut & Palm Extracts (Water, Disodium, Coco-Glucoside Citrate, Glycerin, Fragrance, Phenoxyethanol)
Legal Disclaimer
The Petpost Premium Dog Ear Cleaner is tested and safe for all puppies and dogs 6 weeks of age or older.
Seller Warranty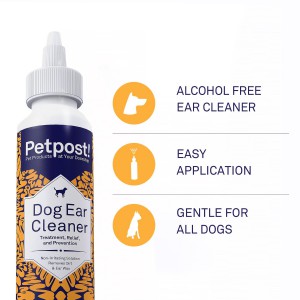 If the Petpost Premium Dog Ear Cleaner does not relieve your dog's symptoms more quickly than other dog ear cleaners, or if you or your dog just don't like it we'll replace it or give you 100% of your money back, no questions asked. Yes – we really are that confident that you and your dog will love this product.
Directions of Use
Below are the directions for using this ear cleaner:
Lift the dog's ear and apply several drops directly into the ear canal.
Gently message the entire area around the dog's ear.
Allow your dog to shake its head, allowing any dislodged wax to fall out.
Use a cloth to wipe clean the excess liquid around your dog's ear flap.
Use daily for 2-5 days, or until wax build-up and odors are removed and your dog begins to feel better.
Apply cleaner weekly for a happy, healthier, dog!
Customer Reviews and Ratings
There are 354 customers who have used this product so far and have rated this cleaner with an average score of 4.5 out of 5, which is excellent.
You can read all of the customer reviews
by clicking on the link.
Frequently Asked Questions
Below are some of the most frequently asked questions about this product.
How many bottles are sent? The photo shows three bottles. Answer: One 8-ounce bottle.
Can this product be used on cats? Answer: Yes.
Is there a drying agent in this product? Answer: No, this product uses natural, plant-derived ingredients, and none of them are a drying agent. This is because drying agents have a high chance or irritating sensitive and infected ears. That being said, the product is very effective at cleaning wax, dirt, debris, which is the main cause of infections in dog ears. When creating this special formula, our veterinarians wanted to create a product that soothes your pups sensitive ears in addition to cleaning out removing harmful bacteria, which is why we did not include a drying agent. Petpost Customer Support Specialist
Does this product actually rid ear mites? Answer: Yes, this product is effective at quickly ridding dog and cat ears of mites. Use the Petpost Premium Dog Ear Cleaner every day for 1 week or until the symptoms subside. In addition to cleaning the ear and removing mites, this product soothes and relieves the itchiness and soreness associated with ear mites. Petpost Customer Support Specialist
Shop Petpost Dog Ear Cleaner
You can shop for the Petpost Dog Ear Cleaner by clicking on the image or link below. You will be taken to the Amazon product ordering page where you can purchase the product that is sold in 8-ounce bottles.
As an Amazon associate, I earn from qualified purchases.

Petpost | Dog Ear Cleaner – Natural Coconut Oil Solution – Best Treatment for Mite, Yeast and Ear Infection Causing Wax – Alcohol & Irritant Free – 8 oz.
Go back to Dog.Dog Luxury Beds home page.
Petpost Dog Ear Cleaner
$18.97
Very Effective Dog Ear Cleaner
9.5/10
Vet-Proven, Alcohol Free Formula
9.5/10
Easy Application Nozzle
9.0/10
Soothes Symptoms and Prevents Future Infections with Regular Use
9.0/10
Removes Bacteria The Causes Ear Infections, Yeast Infections, and Ear Mites
9.0/10
Pros
Very effective ear cleaner at blasting away infection causing bacteria and ear mites.
Easy application nozzle makes getting to your dog's ears easy.
The alcohol free formula naturally and gently destroys wax and dirt without harsh chemical medication or irritants.
Soothes symptoms and prevents future infections with regular use.
100% money back guarantee.
Cons
Price.
1 8 oz. bottle not three.
Good for pets 6 weeks and older.