Toy Name:

Kong Extreme Dog Goodie Bone
Product Description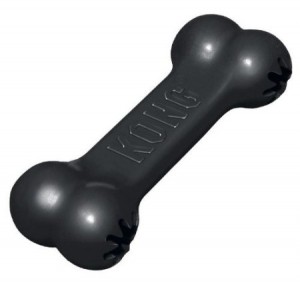 This exceptionally durable bone-shaped chew is designed to stand up to even jaws of steel. Made from the same super-sturdy, puncture-resistant, non-toxic rubber as the black Extreme Kong, it's the perfect toy for the dog that's home-alone a lot. It's recommended by vets and trainers for dogs with problem behaviors or separation anxiety, the Extreme Goodie Bone helps satisfy dogs' natural urges to hunt, chase, and gnaw, keeping them happy and busy for hours while their owner's away.
The innovative design features holes with patented Goodie Grippers on each end. Just stuff the holes with biscuits, dry kibble, or his favorite treats, and watch your dog go to work extracting the contents; the grippers make the "hunt" harder, and therefore more fun.
This toy is also good for playing fetch with your dog. This is a highly interactive toy that will provide your dog with lots of exercise, especially with treats inside for a reward.
The rubber bone measures seven inches long, the black Extreme goodie bone is appropriate for aggressive chewers and large dogs, including Labs and German Shepherds. Regularly inspect your goodie bone for cracks or missing chunks, and replace worn or damaged toys to avoid a choking hazard.
Product Features
The features of this product are listed below:
Natural rubber toy that holds treats or kibble for your pet
Use his favorite treats to stuff the bone at each end to keep your dog busy while you are away
Made in the USA
Patented Goodie Grippers
Made with non-toxic extremely durable rubber material
Product is seven inches long
Price: $6.99
Note: The price for this toy is subject to change without notice.
Brand: KONG
Toy: Rubber Bone
Color: Black
Product Rating: 4.0
Category: Interactive Toys
For Dog Size: Medium to large dogs or up to 100 lbs.
Reviews: Read the Customer Reviews!
Common Questions and Answers
Below are some of the most common questions for this product along with the answers.
What is the size of the medium dog bone? Answer: 7″ long, 2 1/2″ tall at the ends and 1 1/2″ wide at the ends.
Is this toy safe for an 8-week old puppy? Answer: I can't see any reason it wouldn't be safe – my Bostons destroy most toys and they cannot even tear these KONG bones – most toys that say "durable" "indestructible" they can devour into 100 pieces in less than an hour. These KONGS have lasted months and they have not torn any pieces off!
Does this dog bone float? Answer: No
Does this bone come in larger sizes? Answer: No, only the medium size.
Does this bone come in smaller sizes? Answer: No. However, you can get this item in other colors such as the "RED" one in smaller and larger sizes.
To shop for product, click on the image below. You will be taken to the Amazon product ordering page.
As an Amazon associate, I earn from qualified purchases.
Go back to Dog.Dog Luxury Beds home page.
KONG Extreme Dog Goodie Bone
$6.99
Rubber Bone That Also Holds Treats
9.0/10
Non-Toxic Made of Durable Natural Rubber
9.0/10
Keeps Dogs Busy While Owner Is Away
9.5/10
Toy Will Stand Up Even For Powerful Chewers
9.0/10
Pros
Keeps pets busy for hours.
Fill bone with your pets favorite treat or kibble for added enjoyment.
The bone measures 7-inches long.
Made from the same super-sturdy, puncture-resistant, non-toxic rubber as the black Extreme Kong.
Made In USA
Cons
Toy for medium sized dogs.
This toy is not indestructible.
Supervision required is your dog is an extremely hard chewer so they don't swallow any pieces.