Toy Name: Dogloveit Chew Squeaky Toys Mallard Duck
Product Description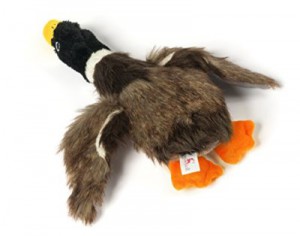 Dogs just love toys. As dog owners, it is our responsibility to select those that keep his attention and excited to play with for hours. The Dogloveit Chew Squeaky Toys Mallard Duck fits into this category. This is a great interactive toy to help owner and dog to bond, and play fetch, a game which most dogs like to play.
This duck plush dog toy is made of soft cotton and plush material which helps your dog get an excellent grip on the toy.
Moreover, it weighs only 0.3 ounces hence it is good for dogs of all sizes for both fetching and snuggling! The toy is realistically designed to look like a real duck, and to bring the real difference, it has been provided with a built in squeak feature.
With this feature, the duck shaped toy will squeak every time it is bitten for the added delight of your dog. The soft material means that this toy is also chewable for your dog and will come in handy at times of teething.
Product Features
Below are some of the features of this product.
Duck designed toy
Built-in squeakers for added enjoyment
Lightweight easy to pick up and toss
Made with soft cotton into a plush toy
Chewable
Pups love to bite the toy because of the squeak effect
Weight: 0.3 ounces
Dimensions: 12 x 3 x 12 inches
Price: $9.99
Note: The price for this toy is subject to change without notice and if there are any discounts being offered at the time of purchase.
Brand: Dogloveit
Toy: Squeaky Chew Mallard Duck
Color: Brown
Product Rating: 3.9
Category: Interactive Toys
For Dog Size: Small
Reviews: Read the Customer Reviews!
To shop for product, click on the image below. You will be taken to Amazon where you can place the order.
As an Amazon associate, I earn from qualified purchases.
Dogloveit Chew Squeaky Mallard Duck Dog Toy
Go back to Dog.Dog Luxury Beds home page.