LED Leash Can Be Seen Up To 1,000 Feet Away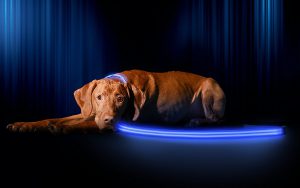 Are you concerned when you walk your dog at night that others cannot see you?   Are you also concerned where your dog is when you are walking out at night? These are just a couple of questions you might be asking yourself especially when walking your pet at night in dark places where heavy traffic may be around without any street lights. You might want to consider using a dog LED safety leash which can be seen by others when walking your pet at night.
Dog safety leashes can be used to keep your pet controlled when approaching other people. As your dog approaches others along the walkway, he might not take to them. He might jerk or jump or bark. Having your dog on a leash helps you, the owner, to control him in these circumstances.
Another reason for having your dog on a leash is he won't be chasing people, other animals, bikes and cars. Leashes will save your pets life.
Safety leashes that glow in the dark will allow both of you to be seen up to 1,000 feet away from your location and any oncoming persons or vehicles can take the appropriate action. This is important when walking your pet along dark streets that don't have lights so you can be seen by oncoming cars and bike riders. It alerts them of something ahead and to be careful.
You will be doing both you and your pet a huge favor by having a leash that glows in the dark.
Of course, you don't need a lighted leash if you should reside in well lit areas. But, as a dog owner, you should always side with safety for the both of you. A lighted leash and dog collar are the best precautions you can take for your safety when walking dogs at night.
Dog Leash Laws
Depending upon where you live, there may be some state law, county law, or local law that requires all dog owners to control their pets under a leash when off the premises. As a pet owner, it is your responsibility to know what the governing laws are concerning pets being on a leash. Some have restrictions between sunset and one hour after sunrise. Each state and local municipality will have differing regulations about dogs in general and female dogs in heat.
Most municipalities may have laws or rules concerning dogs running at large, having rabies, sunset laws, in parks, public places, and female dogs in heat. It's vital that you know what these laws are as some carry penalties for not properly following them in the area where you live.
These laws require that dog owners have their pets on a leash when going out at anytime of the day. It's important that you have your dog under control at all times. Even if they are well trained. Be sure to contact the village hall to know what these laws are concerning pets when walking in public.
Conclusion
Pet owners always want to be safe when they go walking with their pets. This is true when doing this job at night where there are dark streets. For your pets safety using a lighted leash will provide others to see you at a distance so they can take any corrective action to avoid hitting you or your pet.
Shop LED Lighted Leashes
You can shop for some of the best brand named LED leashes on Amazon. You just have to click on the Buy Now button. You will be taken to Amazon where you can place the order. On some leash selections, you get to choose the color and size you want.
As an Amazon associate, I earn from qualified purchases.
Go back to the Dog.Dog Luxury Beds home page.