Toy Name: OurPets Buster Food Cube Dog Toy
Product Description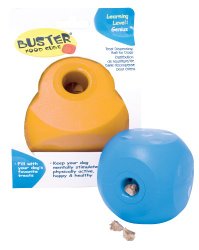 Dogs love playing with toys. The challenge is finding one that will satisfy by providing exercise and rewarding him at the same time. The OurPets Buster Food Cube Dog Toy is just the one that does all of this by dispensing treats, snacks, or kibble from the hole on the side of the toy. Your pet will have fun trying to dispense the treats out of this toy by using his nose and paws providing him with some exercise and fun all at the same time.
You may have a dog when it's mealtime they just gobble up their food in no time flat. This toy is a good tool to help slow down your dog's eating habits. The large size cube holds up to 1 cup of kibble or treats.
Give your dog the ultimate brain teaser with the Buster Food Cube! Remove the adjustable cylinder and fill the cube with your dog's favorite treats. Then, reinsert the cylinder, adjusting the level of difficulty, and let your dog push and nuzzle the cube to release the treats. Available in large and mini sizes.
This toy is an interactive puzzle toy. It should be used in the presence of the owner. Do not leave this toy alone with your pet. Pets will dispense out all of the treats and get bored with the toy when it's empty.
This toy is puzzle treat or kibble dispensing toy that dogs will have fun when eating their meals. Many dog owners have complained about opening the toy to clean it. Take a look at the video below. It's a good demonstration on how to remove the core from the cube. Take a look!
Video on How To Open Buster Food Cube
Product Features
Below are some of the features of this product.
Most difficult treat dispenser

Easy to load, Easy to use

Adjustable for added difficulty

Center removes for easy cleaning-Thermoplastic rubber is safe and durable

For medium to large size dogs

Dimensions: 5.4 x 6.2 x 7.8 inches
Weight: 1.6 ounces empty
Come in two sizes: Mini and Large (pictured)
Price: $12.09
Brand: OurPets
Toy: Interactive Food Dispensing Toy
Color: Varies
Product Rating: 3.7
Category: Interactive Toys, Puzzle Toys
For Dog Size: Medium to Large
Reviews: Read the Customer Reviews!
Frequently Asked Questions
Below are some of the most frequently asked questions about this product.
How to get the center out of the toy? Answer: See video above.
Is it good to leave this toy in his crate? Answer: No. Do not leave food dispensing toys in his crate alone. These toys require supervision. You may use it to get him used to the crate. When the food is gone, remove the toy and replace it with another.
How much food does the large cube hold? Answer: 1 cup.
Would this toy work well in a puppy car seat? Answer: No. This toy requires room for it to roll around.
Is there more than one hole for food to come out? Answer: No. Only one hole.
What type of treats or food should I use? Answer: Treats or kibble that fits into the hole. Round kibble or treats work best.
Where is this toy made? Answer: Made in Vietnam and the company is in Ohio.
Shop OurPets Buster Food Cube Dog Toy
To shop for product, click on the image below and you will be taken to the Amazon ordering page. Once there, you can select the mini or large cube. The large cube is pictured below.
As an Amazon associate, I earn from qualified purchases.
Go back to Dog.Dog Luxury Beds home page.
OurPets Buster Food Cube Dog Toy
$12.09
Easy To Load Treat Dispenser
9.0/10
Difficulty Is Adjustable
9.5/10
Center Is Removable for Easy Cleaning
9.0/10
Thermoplastic Rubber Is Safe and Durable
9.0/10
Pros
Easy to load and easy to use treat dispenser.
The level of difficulty is adjustable.
The center of the toy can be removed for easy cleaning.
Mentally stimulates your dog.
Helps to discourage a dog's destructive behavior.
Cons
Toy must be larger than the width of your dog's mouth.
Color of toy is determined at the time product is shipped.
This is for medium to large size dogs.