Toy Name: Nina Ottosson's Spinny Interactive Toy
Product Description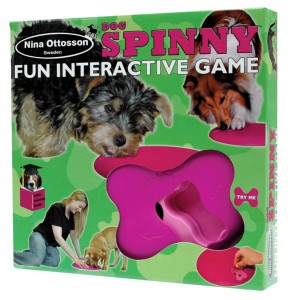 The Nina OttossonDog Spiny" Interactive Toy has one removable bone that has to be dislodged by the dog who can then rotate the top section to access treats or dry kibble in up to eight compartments. By gradually reducing the number of treats or food you can make him work harder for rewards which keeps him busy.
These particular toys have been designed to stimulate a dog's brain and reinforces it's relationship with the family.
This toy will help exercise your dog's mind and body and help prevent and reduce behavior problems which are common among dogs. It will also help prevent and reduce weight problems and prevent boredom.
Another huge benefit of this toy is it will help strengthen the bonding with your dog which is very important for dog and owner.
You also can control how fast he eats especially if your dog gobbles up his food very quickly. You can place his entire meal in all eight compartments and let him work for it.
This game is intended for interactive play with owner and dog together. It is not meant to be given to him as a toy when he is left alone as the dog could chew and break the plastic parts. This toy is washable in the dishwasher.
A great interactive puzzle toy to keep your pet stimulated and have fun for hours and get rewarded for his efforts. A Win! Win! for all.
Product Features
Below are some of the features for this product.
Interactive game toy

Tough and hard wearing

Water, dishwasher and slobber proof

Anti slip feet

Suitable for all ages and sizes of dog

Eight (8) treat compartments
Dimensions: 12 x 11.5 x 1.5 inches
Weight: 15.8 ounces
Price: $29.94
Note: The price of this product is subject to change without notice.
Brand: Nina Ottosson's
Toy: Treat Dispensing Challenge
Color: Magenta
Product Rating: 4.3
Category: Puzzle Toys, Interactive Toys
For Dog Size: All Dogs
Reviews: Read the Customer Reviews!
Frequently Asked Questions
Would this toy be good for Chihuahuas? Answer: It would be. The pieces are light enough and the spaces for the treats suit smaller dogs.
Shop Nina Ottosson's Spinny Interactive Dog Toy
To shop for product, click on the image below where you will be taken to the Amazon ordering page. Once there you can select the item and place your order. You will also have the option to order besides the Spinny, Magic, Tornado, and Brink interactive puzzle game toys.
As an Amazon associate, I earn from qualified purchases.
Nina Ottosson's Spinny Interactive Dog Toy
Go back to Dog.Dog Luxury Beds home page.