Toy Name: KONG Classic KONG Dog Toy  
Product Description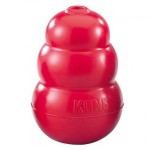 This toy is great for dogs that suffer from separation anxiety, have barking and digging behaviors, and crate training for puppies. This is a fun toy to keep your pet amused for hours. Also, will help keep his mind stimulated while tying to get out all of the kibble or treats that is stuffed inside the toy. A great way to increase the time for your dog in removing the treats is to freeze the KONG with the treats inside, then give it to him. He will spend hours trying to get at all of those treats.
All dogs need exercise and this toy will provide that whether he is playing with it inside or outside the house. This toy is made of super-bouncy red rubber material which will hold up for dogs that like to chew. You can use this toy in playing the game of fetch with or without the treats inside.
Product Features
This product has the following features:
Perfect for stuffing kibble or his favorite treat
Unpredictable bounce when playing games of fetch
Recommended worldwide by Veterinarians, Trainers and dog enthusiasts
Made in the USA
Available in six sizes:

X-Small
Small
Medium
Large
X-Large
XX-Large
Price:$9.30
Note: The price for this toy is subject to change without notice.
Brand: KONG
Toy: KONG Classic Dog Toy Large
Color: Red
Product Rating: 4.5
Category: Chew Toy, Interactive Toy
For Dog Size: Large (Other options: XS, S, M, XL, XXL)
Reviews: Read the Customer Reviews!
Common Questions and Answers
Below are some of the most common questions related with this product along with answers.
If you put peanut butter in the center is it hard to clean out? Answer: No, my dog does not have a problem licking it clean.
Does this toy float in water? Answer: No.
What is the right size for large dogs? Answer: Large to XX-Large depending upon the size of your dog's mouth. I would go to a local pet store and check the sizes to be sure and then if you still want to order from Amazon, or any other store, you can.
Is this toy dishwasher safe? Answer: I put mine in top draw of dishwasher and seemed OK. Otherwise use a baby's bottle brush to clean inside.
How long is the medium size KONG? Answer: 3.5″ x 2″. The small is 3″ x 1.5″.
Where is this toy made? Answer: In the USA.
How much does this toy weight: Answer: Under 1 lb.
I have a chewer what size should I get? Answer: Get the KONG Extreme Dog Toy, Large, Black which will hold up to chewers. The red KONG will not.
To shop for product, click on the image below. You will be taken to the Amazon product ordering page.
As an Amazon associate, I earn from qualified purchases.
Go back to Dog.DogLuxuryBeds home page.
KONG Classic KONG Dog Toy
$9.30
Helps Dogs With Separation Anxiety
9.0/10
Help Dogs With Digging or Barking Behaviors
9.0/10
Ultra-Strong & Durable Black Rubber Formula
9.0/10
Unpredictable Bounce for Games of Fetch
9.5/10
Pros
Great toy for chewers, and puppies during their teething stage.
Mentally stimulating toy, offering enrichment by helping satisfy dogs instinctual needs.
Ultra-durable with an erratic bounce that is ideal for dogs that like to chew while also fulfilling a dog's need to play.
Ultra-Strong & Durable Black Rubber Formula
Made In USA
Cons
The toy does not float.
Some dogs may not like this toy.