Toy Name: StarMark Bob-A-Lot Interactive Dog Toy
Product Description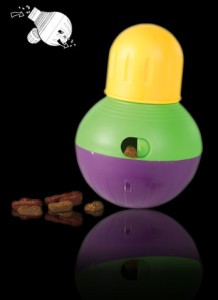 Here is a great interactive toy that will keep your dog amused during his play time. The Starmark Bob-A-Lot toy will help dogs that suffer from boredom. You can use this toy for feeding his favorite treats or giving his meal. Some dogs like to eat their food extremely fast, but with this toy, it will slow down this process and provide some stimulating activity for your pet.
The top of the toy is where you load the kibble or treats and the size of the treats must fit through the opening. The opening where they come out is the same size. This will let you know if the treat or kibble is ok to use.
Fill the toy with kibble or treats and close the top. Your dog will eventually figure out how to get the treats or food out. Initially you may have to assist. The opening can be adjusted to make the treats or food come out easy or more difficult. You decide. The opening is about the size of a dime.
Provides stimulation your dog and it also helps him to get some exercise, release some of his excess energy, and keep him busy. Not bad for a dog toy.
This is not a chewable toy. You must monitor your dog if and when he shows signs of chewing on the toy. This is an interactive toy for feeding him treats or kibble.
The Bob-A-Lot is an interactive toy, you can watch him trying to remove the food or treats for his reward after he properly maneuvers the toy to release kibble or treats on the floor.
Be sure to have your camera ready as this should be fun watching and you will have it on film to view it again and again. It's a great way to show other dog owners how the toy works.
As stated before, you can use this toy to feed your pet instead of placing his normal food in his bowl to eat.
Product Features
Below are some of the features for this product:
Can hold a variety of treats and kibble
Adjustable difficulty level
Provides hours of challenging play
Comes in small and large sizes
Holds up to three (3) cups of food
Dimensions: 6 x 6 x 8.5 inches
Made in China
Price: $12.39 (Large)
Price: $10.64 (Small)
Note: The prices for this product is subject to change without notice.
Brand: StarMark
Toy: Bob-A-Lot
Color: Yellow, Green & Purple
Product Rating: 4.2
Category: Interactive Toys
For Dog Size: All Size Dogs
Reviews: Read the over 2,400 Customer Reviews!
Frequently Asked Questions
Below are some of the frequently asked questions about this product.
Is this toy made of rubber or hard plastic? Answer: Hard plastic.
How noisy is it? Answer: Makes noise on the hard floor. On the carpet no problem.
Is it easy to clean? Answer: Yes. I use a small dab of dish liquid with water and then rinse it several times to ensure all the soap suds are gone. Then I turn it upside down on a drainer to let it dry overnight.
How large kibble will it hold? Answer: The size of a dime. Any kibble or treats less than a dime size will fit nicely.
Any suggestions on how to fill it quickly? Answer: Use a funnel. Poor slowly.
Would this be a good toy for a dog that is starting to get bored when he is alone? Answer: No. Don't give this toy to your pet without your supervision.
To shop for product, click on the image below. You will be taken to the Amazon product ordering page.
As an Amazon associate, I earn from qualified purchases.
Bob-a-Lot Treat Dispensing Toy
Go back to Dog.Dog Luxury Beds home page.
StarMark Bob-A-Lot Interactive Toy
$10.64 (Small), $12.39 (Large)
Helps Exercise & Feed Your Dog
9.0/10
Bottom Chamber Holds Up to 3 Cups of Food
9.5/10
Adjustable Openings Allows You To Regulate The Difficulty Level
9.0/10
Entices Your Dog To Play
9.0/10
Toy Wobbles Erratically
9.5/10
Pros
The Large bottom Chamber fits up to 3 cups of Food - enough for a full meal.
Exercises and feeds your dog at the same time.
Weighted anti-slip bottom makes the toy wobble erratically enticing your dog to play.
Interactive toy holds up to three cups of food and has adjustable openings.
The erratic wobble of the toy makes dog want to play.
Cons
Price.
This toy is not for aggressive chewers.