Toy Name: KONG Senior KONG Dog Toy Medium
Product Description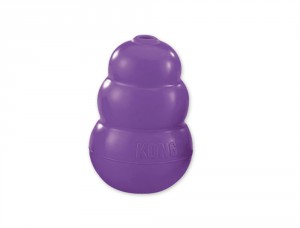 Your dog is now aging and his teeth and gums are of a concern. Would you like a toy that will not hurt their teeth and gums while playing with a toy? Your searching is over. The KONG Senior KONG Dog Toy has just come to the rescue. This toy will not hurt their teeth and gums and provide them with a wonderful chewing experience they need.
For dogs, physical and mental development, emotions and behavior are all influenced by healthy play. Play helps dogs expend excess energy, which is important for appropriate behavior. Kong dog toys encourage play, satisfying dogs' instinctual needs and strengthening the bond between dog and owner.
You can insert their favorite treat, kibble or other stuff like peanut butter in the KONG toy and watch your pet play with it to get the reward out of the toy. They will have hours of fun trying to get the food out.
This Senior KONG toy comes in three sizes:
Small (3 x 1.8 x 1.8 inches)
Medium (3.4 x 2.2 x 2.2 inches – item pictured)
Large (4.1 x 2.8 x 2.8 inches)
What Type Chewer Is Your Dog
Gentle Chewers – These dogs are easy on toys and prefer plush or fabric toys. They usually like to lick or suck on their toys, but rarely ever destroy their toys.
Average Chewers – These dogs love to play with all kinds of toys and will often carry toys around with them. They can be destructive with plush and fabric toys but rarely are destructive with rubber toys.
Power Chewers – These dogs are usually strong, determined chewers who require more discretion when it comes to selecting toys. Choose durable, interactive play toys along with hard rubber toys. Sizing up is also helpful when picking toys for Power Chewers.
Product Features
Below are the features for this product.
Made from specially formulated KONG Senior rubber
Ideal for aging teeth and jaws

Perfect for Stuffing with KONG with treats, kibble or other snacks

Reestablishes play and exercise

Recommended worldwide by Veterinarians, Trainers and behavior experts

Made in USA

Dimensions: 3.4 x 2.2 x 2.2 inches
Weight: 3.4 ounces
Price: $6.19
Note: The price of this product is subject to change without notice.
Brand: KONG
Toy: Senior KONG Toy Medium
Color: Purple
Product Rating: 4.4
Category: Interactive Toys
For Dog Size: Medium Size Dogs
Reviews: Read the Customer Reviews!
Frequently Asked Questions
Below are the frequently asked questions about this product.
I have an 11-year old Shih Tzu would the medium size KONG be good for her? Answer: Yes. Medium is a good size for a Shi Tzu, they are great with a little peanut butter in them.
Being softer material, would it not last as long as a regular KONG? Answer: It is still durable but it has more give than the standard Kong. We still have several regular Kong's but one of our doggies is getting up there in age. We are more concerned with her enjoyment and her gums not getting ripped up rather than worrying about the price of replacement. It is much more squishy and she seems to enjoy it that is what is important to us!
What size KONG would you recommend for a rescue 65 lb. dog with most of her front teeth missing? Answer: The Large Senior Kong should work well. I have a mini schnauzer with many teeth missing and she loves the Senior Kong. I get her a medium and mix natural peanut butter and soft treats or fruit in it, freeze it and wow she goes to town with that tongue of hers. Win win toy.
Shop KONG Senior KONG Dog Toy Medium
To shop for product, click on the image below and you will be taken to the Amazon ordering page. Once there, you can order the small, medium, or large Senior KONG Dog Toy. The medium size KONG is pictured below.
As an Amazon associate, I earn from qualified purchases.
KONG Senior KONG Dog Toy Medium Purple
Go back to Dog.Dog Luxury Beds home page.
KONG Senior KONG Dog Toy Medium
$6.19
Helps To Promote Senior Dogs To Play More
9.0/10
Specially Formulated KONG Rubber for Senior Dogs
9.0/10
Provides A Gentle and Comfortable Chewing Outlet
9.0/10
Provides Satisfying Instinctual Needs For Senior Dogs
9.0/10
Pros
Helps promote senior dogs to play more.
Specially formulated KONG rubber for senior dogs.
The toy is great for chewing, chasing, and fetching.
Extend playing time by place pet's favorite treats or kibble in it.
Made In USA
Cons
Toy is for senior dogs between 15 to 35 pounds
Aggressive chewers can destroy this toy.