A Plush Dog Toy For Toss and Fetch Games
Toy Name: Multipet Plush Dog Toy Lambchop
Product Description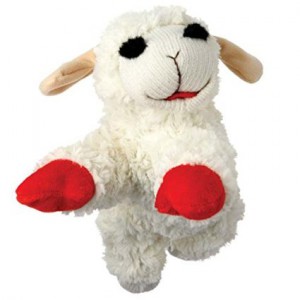 It's Lamb Chop, the adorable little lamb made famous by the Shari Lewis' PBS show, Lamb Chop's Play-Along.  This plush dog toy can make a wonderful toss and fetch toy or a snuggle toy for your pet. The Lamb Chop squeaker dog toy is incredibly soft and comes with floppy ears, furry eye lashes, and round, red feet. Your dog won't be able to resist picking up this plush dog toy and taking it with him everywhere.
Another plus for this toy it can encourage healthy play and exercise which is good for him. You can toss this squeaker toy across the room and watch your pet eagerly go after it. The game of fetch is a great way for your dog to get exercise without him knowing that it is. This helps your pet to burn excess energy that supports his health and for a better life.
Don't be surprised that this will be his favorite everyday toy. Dogs develop a strong affection with their toys and this one may be high on their list. This Lamb Chop plush toy will serve as a snuggle toy to help relieve stress.
The Lamb Chop toys has multiple squeakers that will excite your dog. You dog will enjoy biting down on Lamb Chop's round red paws and hearing this toy squeak in response. Dogs chewing is a natural behavior and this toy can help your pooch relieve stress and boredom.
Product Features
Lamb Chop is an adorable plush dog toy
Squeaker dog toy adds more entertainment
Extremely soft plush toy
Squeaks when played with
Not a puppet
Ideal for toss and fetch games
Can support your dog's natural chewing needs
Product dimensions: 10″ x 6″ x 5″
Price: $4.99
Note: The price of this product is subject to change without notice.
Brand: Multipet
Toy: Plush Lambchop
Color: White
Product Rating: 4.1 (By over 2,270 customers)
Category: Plush Toys, Interactive Toys
For Dog Size: All size dogs
Reviews: Read the Customer Reviews!
Frequently Asked Questions
Below are some of the most frequently asked questions about this product.
How big is the toy? Answer: With the legs stretched out about 10 inches long.
How many squeakers does this toy have? Answer: The 10-inch toy has five squeakers one in the torso and one in each foot. The smaller size 6-inch has only one, in the torso.
Where is this toy made? Answer: In China.
Can you wash this toy even though it comes without any washing instructions? Answer: Yes. I've washed it several times and even put it in the dryer and it comes out great each time.
Shop For Plush Lambchop Toy
To shop for product, click on the image below. You will be taken to the Amazon product ordering page.
As an Amazon associate, I earn from qualified purchases.
Multipet Plush Dog Toy, Lambchop
Go back to Dog.Dog Luxury Beds home page.
Multipet Plush Dog Toy Lambchop
$4.99
Great for Games of Toss and Fetch
8.5/10
Squeakers Included For Additional Enjoyment
8.5/10
Toy Great For Cuddling
9.5/10
Pros
Price.
Soft plush toy good for snuggling.
Extremely soft and plush for extra fun.
Toy squeaks as it is being played with.
Dogs like to cuddle with this toy.
Cons
Made In China.
Depending upon your dog, this toy may only last a few minutes before it's destroyed.