Give Dogs A Bath Without Using Water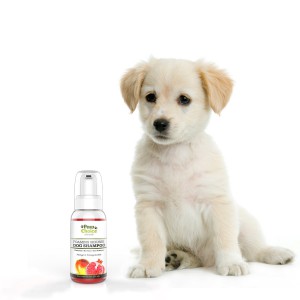 Do you have a dog that just does not like to take a bath? Is bathing your dog a struggle for the both of you? Now you can bathe your dog without getting him wet by using the Paw Choice Dry Dog Shampoo. After applying this shampoo your dog will smell clean even though he did not get wet by taking an actual bath.
This dog shampoo is formulated with natural coconut and other ingredients to create a great smell and is safe and good for dogs with sensitive skin. It does not contain any harsh detergents. It's even okay to use with tropical flea treatments.
You might be thinking does is really clean or just mask the odor? Well, the answer is it actually does clean and is better than using wipes. You can use this shampoo on puppies and adult dogs.
A bath isn't always convenient or an option, but dogs can quickly get dirty and stinky! Paw Choice waterless foam shampoo will get your furry friend clean and smelling fresh without the hassle or mess of a bath.
You can take it with you even on trips whenever your dog should have a bad odor which will make it bearable for all in the car or van when traveling.
Product Description
Requires no water for rinsing
Cleans coat and skin, removes odor
Fresh Mango and Pomegranate scent
Mild natural coconut derived formula
Good for all fur types and sensitive skin
Keeps active dogs fresh
Helps extend times between baths
Great for pets that do not like baths
Can be used anywhere and at anytime
Premium natural ingredients
Veterinarian formulated
Manufacture: Paw Choice
Last Price: $15.78
Note: The price for this product is subject to change without notice.
Shipping Weight: 11.2 ounces
Net Weight: 8 ounces
Origin: Made in the USA
ASIN Number: B010FGJ46E
Ingredients: Water, Mild Surfactant Blend (Coconut Derived), Polysorbate 20, Fragrance, Preservative
Guarantee: 30 days, no questions asked if you are not satisfied with the product for a complete refund.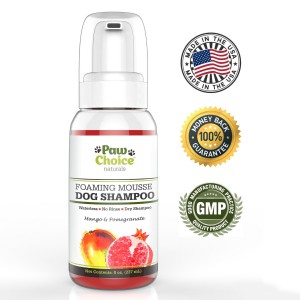 Directions of Use
Below are the directions on how to use this product.
Apply foam directly onto pet's dry coat.
Massage and smooth the foam all over without getting into pet's eyes.
Leave it in and let air dry for an effortless clean bath.
Customer Reviews and Rating
There are over 510 customers who have purchased this product and have given this item an average score of 4.3 out of 5, which is excellent.
You can read all of the customer reviews
by clicking on the link.
Frequently Asked Questions
Below are some of the most frequently asked questions concerning this product.
Is this product safe for cats? Answer: Yes, it is safe for both cats and dogs.
You call this a bath but how does the dirt get removed if it just gets rubbed on and left to dry? Answer: Working the foam through your dog's fur can help loosen and remove dirt. Using a towel to rub and work in the foam can also assist with removing dirt. For when your dog is really dirty, a full bath would be best. Paw Choice.
Would this work well with a double coated dog? Answer: I have a German Shepherd and he has a pretty thick coat. I just got this last week and have only tried it once, but it does dry quickly and has a wonderful smell. I really like it and it doesn't bother him when I put it on.
How many applications can I expect from this bottle? Answer: It depends upon the size of your dog. For a small to medium dogs, 20 applications. Bigger dogs between 10 to 15.
Shop Paw Choice Dry Dog Shampoo
You can shop Paw Choice Dry Dog Shampoo by selecting or clicking on the image below. You will be taken directly to the Amazon product ordering page.
As an Amazon associate, I earn from qualified purchases.

Paw Choice Dry Dog Shampoo, Waterless, No Rinse Foam Mousse – Best for Bathless Cleaning of Coat and Removing Pet Odor – Mango & Pomegranate Scent, Natural with No Harsh Detergents, Made in USA, 100% Guaranteed


Go back to Dog.Dog Luxury Beds home page.