Benebone Bacon Flavored Wishbone Chew Toy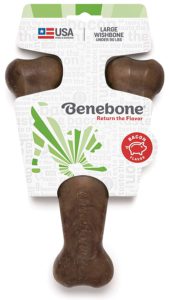 Dog owners know that their pets like to play. Exercise is good for them and their health. If your pet is a chewer, then give him a Benebone Bacon Flavored wishbone Chew Toy to munch on. It will save your rugs, shoes and other things that a chewing dog like to chew on around the house.
This toy comes in three flavors bacon, chicken, and peanut and they are made in the good old U.S.A.
These bones are made with real ingredients all the way through the chew. You can be assured that whatever flavor you select it is 100% real bacon, chicken or peanut flavor through the chew.
The Benebones come in three sizes, small, medium, and large. Small wishbones are for pets under 30 lbs., medium wishbones are for pets between 30 and 60 lbs., and the large wishbones are for pets between 60 and 90 lbs. Be sure to select the right size your dog can handle.
if you should notice any wear on the chew, discard it.
Please note that these chews are not edible. So, some supervision will be required when giving this wishbone chew to your pet.
Manufacturer's Warning: "Benebones may cause an allergic reaction in humans or animals that are allergic to one or more components, such as nylon, peanuts, chicken or pork." (This statement is from the manufacture.)
Product Description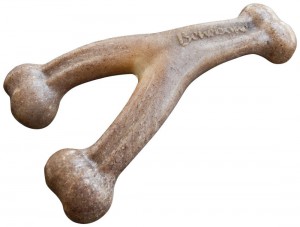 Benebone is a Bacon-flavored dog chew that will please dogs for hours. If your dog is a chewer, bored or hyperactive, than this toy will be a huge with them. Most dogs like to chew and this toy provides that for them, instead of your household furniture, shoes, table legs etc.
These Benebones are curved to allow dogs to pop-up one end and get a satisfying chew going. Besides that, it has deep grooves that allow puppies to get a good bite, and increased surface area for improved scent and flavor. This toy is patented! It has only two ingredients, nylon and bacon. The bacon flavor is 100% real bacon which dogs will love to chew on for and keep them occupied for hours.
This wishbone is a chew toy for cleaning dogs teeth, but it's not to be eaten. Another nice feature of the company is that they support canine welfare with a portion of the purchase price, particularly dog shelters throughout the USA.
Disclaimer: This dog bone toy should be whole and intact at all times. Replace it if you should see any sign of reasonable wear, such as deep teeth marks, cracks, or any sign of breaking apart. This is for the safety of your dog.
Note: This toy is made in a facility that may also be in contact with nuts. Do not purchase this product if anyone in your family is allergic to nuts of any kind.
Product Pricing
The price for this product is provided to consumers so the can compare them with other similar products.
Small Price: $9.65
Medium Price: $11.59
Large Price: $17.41
Note: The prices for these products are subject to change without notice.
Product Specifications
Brand: Benebone
Toy: Wishbone
Weight: 5 ounces
Size: Small: 5.1 x 3.9 x 0.4 inches, Medium: 6.7 x 4.7 x 1.2 inches, Large: 10.4 x 5.5 x 1.8 inches.
Flavors: Bacon, Chicken, or Peanut
Colors: Brown: Bacon, Dark Brown: Peanut, and Tan: Chicken
Material: Nylon & 100% real bacon, chicken or peanuts
Quanity: 1 bone per package
Made: In The USA
Product Rating: 4.4
Category: Chew Toys
Disclaimer: The company recommends this chew for dogs 70 lbs. and under. However, many owners have experienced great results for dogs above this weight limit. Give this toy to them only under your supervision to ensure they will not choke.
Reviews: Read the Customer Reviews!
Frequently Asked Questions
Below are some of the most frequently asked questions for this product.
How large is this bone? Answer: It's about 7 inches long, 5 inches at the widest point, and 3.5 inches thick at the base.
What criteria did Benebone use for the weight limit? Answer: The weight recommendation is only a rough guide, as weight is a highly imperfect estimator of a dog's chewing strength. We have plenty of customers who have had good experience with dogs in excess of 70 lbs. In the end, owner monitoring is the key to safety. Benebone LLC
Any suggestions on how to clean it? Answer: To clean off the accumulation of dirt/dog fur try scrubbing the Benebone using a stiff scrubbing brush and soapy water. That should do the trick. Jim at Benebone.
Has the level of bacon been reduced in the latest production of Benebones? Answer: We are consistent in the amount of ingredient we use. Benebone.
What are the ingredients? Answer: Nylon and 100% real cooked bacon, no by products.
Does this toy have an odor to it? Answer: No.
My dog does not have any interest of nylabones of any flavor, does anyone use these bones for dogs that have no interest for other nylon toys? Answer: Yes! My three Bernese Mountain dogs have no interest in the Nylabone toys, even the flavored ones. But the bacon flavored Benebone is a real hit. I only ordered one to begin with, to see if any of my pups would like it. I actually had to take it away until I ordered 2 more so they could all have one. I am so happy to have found this chew!
My mini Dachshund pretty much ate 2/3 of the bone. Will he be ok? Answer: Please discard the product long before that much is gone. We rely on owner monitoring to ensure the bone is not eaten, as it is not an edible product. That said, the evidence suggests it will pass so long as the dog does not eat large chunks. Benebone.
How long does the bacon flavor last? Answer: Bacon flavor is infused throughout the entire bone. So while we don't know for sure, we think the flavor lasts a good while. More important, every dog has different chewing habits, so it's important to monitor wear. When the knobs get a little gnarly, it's time to replace. We don't want the bone to break into pieces for safety's sake. Peter at Benebone.
You can read all of the 168 answered questions by clicking on the following link: Answered Questions!
Shop Benebone Toy
To shop for product, click on the image below. You will be taken to Amazon where you can place the order. Once there, you can select the flavor and size wishbone to order.
Benebone Bacon Flavored Wishbone Dog Toy
Go back to Dog.Dog Luxury Beds home page.
Benebone Bacon Flavored Wishbone Chew Toy
$11.95
Curved wishbone shape
8.5/10
Deep grooves which allow pups to get a good bite
8.0/10
Made with super-strong nylon and 100% bacon for irresistible Flavor and
8.0/10
Good For Cleaning Teeth
9.0/10
Pros
Curved Wishbone Shape
Deep Grooves
Made with Super-Strong Nylon w/Bacon Scent
Made In USA
Helps In Cleaning Teeth
Cons
Not Recommended For Dogs Above 70 Pounds
Price