Great Interactive Indoor Toy For Dogs
Toy Name: Chuckit! Indoor Ball
Product Description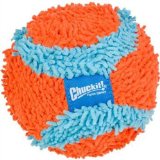 The Chuckit! Indoor Ball is made from textured chenille fabric that is ideal for small dogs and puppies. The soft, resilient construction is safe for indoor use and Features Bounceflex Core technology for a lightweight, yet durable design. Great for playing fetch when it's too wet or cold to go outside!
If your dog likes to play fetch, you will help him to burn off some of his excess energy and will keep him fit. He will also avoid developing some bad behaviors like chewing things around the house that are off limits.
As with some toys, the owner should be present when using this toy with their pets. This is an interactive toy for both the owner and dog to bond with. It's not a toy to be given to the dog to play with when you are not around. Heavy chewer dogs will in most instances easily destroy this toy and may ingest some of the material.
Product Features
Below are some of the basic product features of this toy:
Diameter of the ball is 4.7 inches
It's soft and resilient for interactive indoor play
It comes with lightweight Bounceflex(TM) Core Technology
It fits the Chuckit! Indoor Launcher (not included)
Great for playing fetch indoors when the weather is too cold or to wet outside
The ball does not bounce so it wont break anything
List Price: $9.99
Last Price: $5.19
Brand: Chuckit
Toy: Ball
Color: Orange & Blue
Product Rating: 4.1
Category: Balls, Interactive Toys
For Dog Size: Medium to Large
Reviews: Read the Customer Reviews!
Frequently Asked Questions
Below are some of the most frequently asked questions for this product.
Does the ball have a squeaker in it? Answer: No
Does the ball bounce? Answer: No. You can safely toss and play with this ball inside without damaging or breaking anything.
Does the ball hold up after washing? Answer: I washed mine and it came out just fine.
To shop for product, click on the image below.
As an Amazon associate, I earn from qualified purchases.
Go back to Dog.Dog Luxury Beds home page.
Chuckit Indoor Ball
Great Interactive Indoor Toy
9.5/10
Great for Playing Fetch When Weather Is Bad Outside Cold or Rainy
9.0/10
Soft, Resilient Construction
8.5/10
Pros
Price
Great Interactive Indoor Toy
Great for Playing Fetch When Weather Is Bad Outside
Multilayer Construction for Added Durability
Toy Is Great for Puppies & Small Dogs
Cons
Toy Limited To Puppies & Small Dogs