A Rewarding Interactive Dog Toy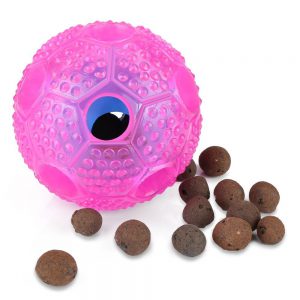 Pet parents have to deal with their good or bad pet behaviors every day. Trying to keep them occupied and not be bored can be a difficult task to say the least. The Rosmax interactive dog toy releases treats or dog food while your pet plays with it just might be the toy that comes to your rescue.
The main purpose of this dog toy is to help reduce the boredom and any other possible destructive behaviors dog's display by changing that into a healthy play and exercise while developing and maintaining your dog's physical alertness.
Another benefit of this toy is the way it is designed can also help clean your dog's teeth while they are playing with it. As they are having fun it also is an interactive feeding experience as well. Food is being dispensed through the hole as your pet plays with it. Fill the toy with your dog's favorite treats or dry dog food and let them have fun trying to get out all the food.
The toy rewards the dog with a treat or food as they are playing with it. This is a Win-Win situation for everyone.
If your pet likes to gobble up all his food quickly, this toy will help curb that habit.
You also can control the size of the hole where the food comes out so your pet will be playing with it longer to get out at all the treats or food.
The toy is made with non-toxic plastic (TPR), and durable natural rubber and come in one color pink.
Product Pricing
The dimensions of this toy: 3-inches in diameter.
Note: The price for this product is subject to change without notice.

Product Rating & Reviews
This product has been rated 4.8 stars out of 5, by 35 customers, which is excellent. You can read all of the customer reviews for this product by clicking on the following link: Customer Reviews!
Shopping Interactive Dog Toy
You can shop for this interactive dog toy by clicking on the Buy This Product Now button below. You will be taken directly to the Amazon product ordering page, to place the order.
Go back to the Dog.Dog Luxury Beds home page.
Rosmax Interactive Dog Toy
$12.99
Pros
Rosmax IQ Treat Dog Toy keeps your dog mentally and physically stimulated as they figure out how to retrieve treats.
Fill the ball with your dog's favorite treats or food and it'll spill out while playing, a great way to promote active and healthy feeding.
Its unique pattern design, it helps clean your dog's teeth as their having fun. As your dog plays and the rolls the ball, treats will fall out to reward them for being active.
This interactive dog toys' made of environmentally friendly and non-toxic plastic(TPR), ensure your dog can play and chew it safely.
Toy is very easy to clean.
Cons
Made in China.
Only one color, pink.