Cozy Warm Fleece Blanket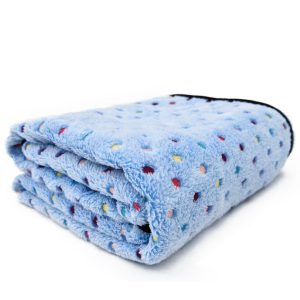 Some pet dogs like to curl up and wrap themselves in a blanket to keep warm and to nap in. The PAWZ pet fleece blanket fleece is just the blanket that your pet will love. It's made of plush 100% double sided coral velvet fabric. Besides providing dogs with something to keep warm it also acts as a protector or shield on couches to catch hair and other debris your pet may have so it won't soil or stain the couch or furniture.
This is a cute blanket which you will adore and it's machine washable.
With this blanket you may notice your pet snuggling into it often which is a win-win situation for everyone. It may well help keep your pet off the furniture you want to protect.
Each dog is different in how they like to rest, nap or sleep.
This fleece blanket is also great when going on trips. It will make your pet feel comfy and snuggle into it as you travel from place to place.
Blanket Sizes, Colors & Dimensions
The fleece blanket comes in the following sizes and colors.
Colors
Blue (S, M, L)
Grey (S, M, L)
Pink (S, M, L)
Sizes
Small: 30.3" in length & 20.8" wide
Medium: 40.9" in length & 30.7" wide
Large: 55" in length & 39.4" wide
Product Pricing
The prices for this product are shown below. Prices are provided for comparison with other similar products.
Small: $9.99 (all colors)
Medium: $11.99 (all colors)
Large: $13.99 (all colors)
Note: The price of this product is subject to change without notice.
Product Ratings & Reviews
This product is rated 4.4 stars out of 5, by over 530 customers, which is excellent. You can read all of the customer reviews for this product by clicking on the following link: Customer Reviews!
Shop Product
You can shop for this blanket by clicking on the Buy This Product Now button below. You will be taken to Amazon where you place the order, select the size and color.
Go back to the Dog.Dog Luxury Beds home page.
PAWZ Pet Fleece Blanket
$9.99 (S), $11.99 (M), $13.99 (L)
Ultra-Soft Plush Material
9.5/10
100% Coral Velvet Fabric
9.0/10
Ideal for Travel or Nap Time
9.0/10
Pros
Well made blanket by ultra-soft plush material.
Made with 100% double-sided velvet fabrics.
Cute and nice ideal for travel and nap time.
Very easy to clean because it's machine washable.
Perfect for the couch or inside pet carrier or your car & RV.
Cons
Not for aggressive chewers.
Designed in the USA and made in China.