Great Tasting, Healthy Dog Treats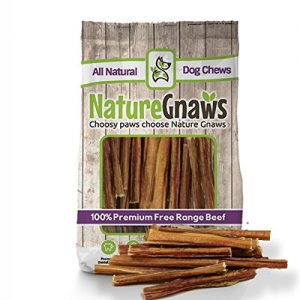 Pet parents like to reward their dogs when they perform or do the commands they have learned or in the process of learning with a great tasting dog treat. The nature gnaws small bully sticks are treats you can give to your dog as a reward during their training sessions. These treats are made from 100% free-range, grass fed, and-natural beef with no added flavors, chemicals or hormones.
As most pet parents know dogs just like to chew. Giving your pet bully sticks will help corral his chewing behavior on other things around the house. These bully sticks provides a way for your dog to chew safely and it also helps with his dental hygiene by reducing plaque & tartar.
The beef used to make these treats comes from Argentina.
The nature gnaws sticks are fully digestible and safe and only contain 8 calories per stick.
Remember, giving your dog treats is fine but, you must remember to limit them to no more than 10% of his total caloric intake for the day. Otherwise, they might gain weight and become obese which is not what you want.
Product Pricing
There are two types of products with these treats. The pricing for this product is described below.
Note: The price of this product is subject to change without notice.
Junior Bully Sticks: $24.99 (15 sticks in a package – sticks 5-6″ long)
Extra Thin Bully Sticks: $24.99 (25 sticks in a package – sticks 5″-6″ long)
Product Rating
This product is rated 4.4 stars out of 5 by 170 customers.
Shop For These Treats
You can shop for these treats by clicking on the product button below.  You will be taken to Amazon where you can place your order.
Go back to the Dog.Dog Luxury Beds home page.
Nature Gnaws Small Bully Sticks
$24.99
Premium 100% All-Natural Beef
9.0/10
No Added Hormones, Preservatives Or Chemicals
9.0/10
Helps Reduce Plaque & Tartar
9.0/10
Pros
Premium 100% All-Natural, Free-Range, Grass-Fed Beef Dog Treats.
Easily digestible & healthy alternative to rawhide or plastics.
Excellent & Safe Chew for small breeds and light chewers.
High in protein with no added hormones, preservatives or chemicals.
Improves dental health by reducing plaque & tartar.